The Event Review: "A Matter of Life and Death"
at . Comments
Last night's episode of The Event really kept me guessing. Each storyline had some twist and turn that, by the end of the hour, ensured the sort of exciting confusion that makes this drama great.
I've read some feedback from a couple readers about The Event, but I couldn't disagree with you guys more. I feel like the further we go, the deeper the unknown becomes and the more questions begin to arise.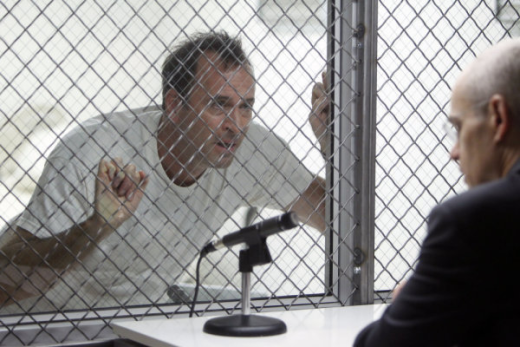 "A Matter of Life and Death" picked up exactly where it left off last week. The passengers from the plane that were presumably dead are now alive. The only thing is,  no one remembers anything from the flight. Whoever and whatever these aliens are, one thing is certain: they possess strong powers.
Blake brings up a very interesting point. If Thomas has the ability to make a plane disappear and the passengers perish, why can't he just zap his fellow people out of the detention facility? My guess would be that his powers don't work on people like him. What do you think?
When Sean and Collier escaped the crazy shoot out, I really thought there would be no doubt in her mind that he was telling the truth. What more has to happen for her to realize that she is now entangled in some government conspiracy?
After they found the address to where Vicky was sending money, I thought it would be where Leila was, but as it turned out for Sean, it couldn't have been a better place. Now he has a bargaining chip to play with and I know that picture will come in handy later on this season.
The only part of this scenario that I have trouble with is believing that a woman so deep in governmental secrets would leave such an easy trail for someone to find where her mom and son are hiding. It really seemed like Sean just stumbled upon such an important aspect in her life.
Probably my favorite part of last night's episode had to be when we were able to see through flashbacks what really went down with Leila. Who would have known that Vicky led Leila to the police station. For me, this is the perfect example of what's going on in this show: Things are not always what they appear to be.
I know that there must be some importance to all the flashbacks we have seen so far. Last night, Sean and Leila went to her parents' house for Thanksgiving for the first time. While there, Sean got interrogated by Michael about his parents. Later in the night, Michael poured him a glass of scotch. The writers took the time to emphasize the label, but why? What could be the significance here?
I still believe that Michael is far deep into this situation. Why else would they choose him to fly the plane? I am uncertain if Leila knows anything. So far, it just seems like she's a lost deer caught in the impending headlights. Also, where is her sister that everyone keeps talking about?
I can sense that there's so much more to the story. Each week, I look forward to seeing what piece goes where. Don't you?!?
Until next week, here are a few of my favorite The Event quotes:
Michael: Scotch, now that's a serious drink. | permalink
Martinez: Who made that call Sophia, and how can I stop him?
Sophia: Listen to me Elias, I know him better than anyone, you need to give him what he wants.
Martinez: Or what?
Sophia: I don't know. But, please, for the safety of your people, do what he says. | permalink
Martinez: I managed to meet a Cuban girl that doesn't cook. | permalink
Vicky: It's never personal. I just like to finish what I've started. | permalink
Martinez: Who is this?
Thomas: I'm that man who pulled the plane out of the sky to save your life. | permalink
Sean: At least now you believe me.
Collier: I haven't gone that far yet. | permalink
Tags: The Event, Reviews
Want more The Event?
Sign up for our daily newsletter and receive the latest tv news delivered to your inbox for free!
More From TV Fanatic
Usually it's insults that get tossed around on The Real Housewives of New York City Season 6 Episode 20 but Aviva threw out a leg. Her own! On the dinner table. We attempt to make sense of the nonsense in our +/- review.
On Perception, Daniel and Kate try to track down a missing baby. Kate also must deal with Donnie's talks about their own future children.
Aria finds some interesting clues as she begins volunteering at Radley while Hanna continues to struggle with Alison's return.
With Maura away, Jane must rely on Susie's help to solve the perfect murder on Rizzoli & Isles.
---