The Good Wife is not off to a good start on season two.
The issues that sprung up on last week's return episode were only emphasized even more on "Double Jeopardy," as the show has taken a strange, unwelcome turn in the direction of primetime soap and fluff.
What made this drama so refreshing last year was its simple storytelling, its refusal to complicate episodes with over-the-top antics or feuds and just rely on the basic, realistic plot of Alicia as a scorned, strong woman, looking to rebuild her life both personally and professionally.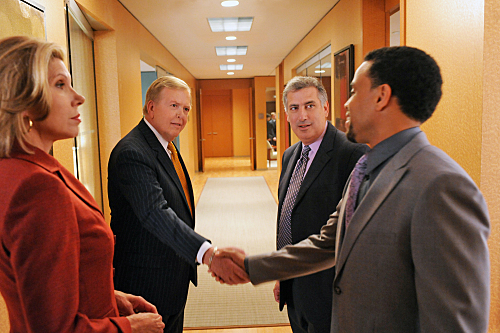 There was no need to rely on mysterious cliffhangers such as the one offered last night. Am I curious about Will's connection to Derek Bond? A little. But I'd rather have it come out organically, in the course of an episode, as opposed to cutting Kalinda and Diane off mid-conversation in order to tease viewers to return next week.

I'd return anyway, writers. Don't contrive a reason for me to do so.

Elsewhere, the military case was an interesting look at how Will functions when he can't use his typical tricks. I just fear it was only used to further the Alicia/Cary rivalry and the make the latter too one-dimensional.

My main beef with the show so far this season, though, falls on Peter's campaign for district attorney. From Amber's video to Becca's involvement to that silly, comical scene at the start of the hour when Eli was falling over himself in order to shut down Peter's interview... it's all extraneously complicated and sordid.

I'd love to watch a political campaign play out over the course of the season, and I have no doubt one might get messy at times. But there's too much going on here and it feels like too much of a gimmick. As previously stated, the series doesn't need to be juggling so many balls in the air. The Peter storyline serves the show best in the background, as something Alicia must deal with in addition to her duties at work and her confused feelings for Will and her husband.

Here's to hoping The Good Wife returns to that formula and stops feeling the need to abandon straightforward storytelling in order to shock the audience with surprising, unnecessary developments.

Matt Richenthal is the Editor in Chief of TV Fanatic. Follow him on Twitter and on Google+.

Tags: The Good Wife, Reviews