A new Greta. A death via gondola. A handful of heart-warming moments.
It was a solid episode of Chuck this week, as outlined and analyzed below by a trio of fans/critics. As always, we encourage readers to chime in with their thoughts on topic covered in the latest edition of the TV Fanatic Round Table...
Favorite guest star: Summer Glau or Rob Riggle?
Dr. Toboggan: I normally like Rob Riggle, but didn't really love him on Chuck. So I'll go with Summer. And I know she was supposed to be a CIA agent, but she didn't appear to be able to move her face which threw me off at times - but who am I to complain?
Quiet Pool: Rob Riggle, hands down. Summer Glau was looking adequately attractive, but what else did she do?
Eric H.: Rob Riggle won me over as he ate chocolate while watching the auction.  Summer Glau's legs were a very, very close second.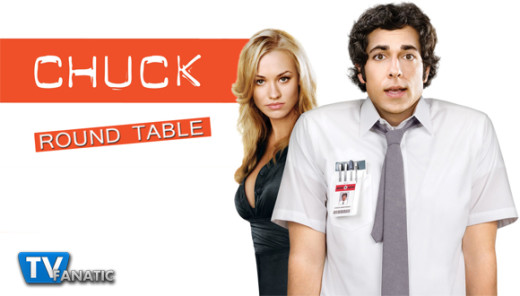 Lester's hair: Wig or real?
Dr. Toboggan: Real, and I don't know how Greta resisted. But it was great watching Jeffster stalk Greta and show off their "skills."

Quiet Pool: Real hair can't look that good.  I am assuming, as my friend George Costanza would say, he was bald.

Eric H.: About as real as Jeremy Piven's hairline.

Better grunt: Casey or Greta?Dr. Toboggan

: Nothing beats Casey.

Quiet Pool: I agree. No one is on Casey's level.

Eric H.: I have to give a temporary honorary award this week to Summer Glau's Greta for giving it a shot.  That takes some serious lady balls to go grunt-for-grunt with Casey.

Shameless Round Table Subway promo: What goes on your footlong?
Dr. Toboggan: Shameless would be letting everyone know I am on my way to have a delicious turkey provolone lettuce tomato onions cucumbers peppers and ranch footlong sub.

Quiet Pool: Me and Greta have three things in common: honey oat, jalapenos and chipotle sauce.  Switch in chicken breast and some cuces, and that's my Subway feast.

Eric H.: Every Tuesday, I have this undeniably craving for Subway.  Today?  I think I'll be trying the Pool and Greta's recommendation of black forest ham on honey oat with chipotle sauce, banana peppers, and jalapenos.  Delish.

If fear and cat images didn't work, what will bring back the Intersect?
Dr. Toboggan: I hope it's something extremely nerdy and Tron-related because of Morgan, but more likely he will have to flash to save Sarah and that will do it for him.

Quiet Pool: Has to be that machine under the seat in Ellie's brand new car!

Eric H.: I agree with the Doctor.  Chuck came very close to flashing a few times using fear and I think putting Sarah's life in danger will be the last push needed to move the rock.  Sorry, Pool, I think that machine under Ellie's car has something much cooler in store for us.

Matt Richenthal is the Editor in Chief of TV Fanatic. Follow him on Twitter and on Google+.

Tags: Chuck, Round Tables