Cougar Town Review: "Little Girl Blues"
at . Comments
Last night, the brilliant writers of one of my favorite comedy shows told us that It's Okay to Watch a Show Called Cougar Town and I couldn't agree with them more.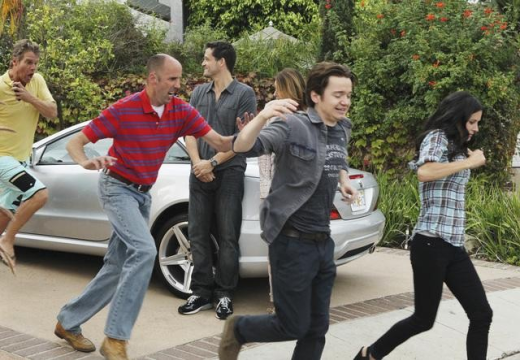 [Photo: ABC]
All the characters have formed a lovely yet strange family grouping, including the random cameo of neighbor Tom. I must say these guys brighten my Wednesday nights!
"
Little Girl Blues
" introduced us to Travis's new girlfriend, Kirsten, not Kristen, as the whole gang tended to revert back to throughout the episode. Of course, Jules at once feels threatened and doesn't like her.
I did find it a little strange that Trav is dating someone four years his senior. Maybe it's because he's such a dork, but how could he pull off dating a grad student? Is he really that good? It's pretty gross just thinking about it. But I am with the guys giving Trav props. Not many 19 year-olds would be man enough to date an older woman.
Trav tries to avoid Kirsten the whole time they are visiting because he is worried that the next time around won't be as good as the first. Thankfully, Bobby, Andy, and Grayson all inform him that no man ever feels adequate for their woman and the moment you realize that, the better off you are. By the end of the episode, these two kids are back in love.
Jules enlists Laurie to help stop her before she says anything too mean/crazy to Trav's new girl. I love how she calls it Jules Cobb-blocking. Way to pun your own name! When Kirsten brings up going to her parents for Thanksgiving, you would think WW3 started. That all too familiar crazy look in Jules's eyes became present.
Laurie realizes that she must act quick and tells Kirsten that she has to (wo)man up and take Jules down. Kirsten tries to do what Laurie suggests, but it ends in one big casualty...that being Big Joe. RIP.
I LOVED how Ellie brought Big Joe out as sort of a comfort blanket for Jules. Jules even goes on to say that Big Joe would never leave her. Yes, this group loves to drink wine, but I don't think any of them really appreciate it as much as Jules does. You may call her an alcoholic. I call her a woman that knows what she wants.
The ending montage was simply amazing...not to forget the remembrance sign. Now I wonder if Big Carl will be able to fill Big Joe's shoes, so to speak. That was a beautiful big wine glass.
And lastly, the gang migrates over to Grayson's to sit, eat, drink, and gossip. Ellie warns him that they are like bed bugs and if he doesn't act quick, they will take permanent residence there. Got to love Grayson's fast thinking by throwing the local neighborhood skunk into his own house. His victory in finally getting the crew out leads me to my favorite Cougar Town quotes from the night:
Ellie: Imaginary hat.
Grayson: Imaginary clown nose. | permalink
Bobby: You see Travis, being a man is living in constant fear of disappointing a woman. | permalink
Jules: What did you tell her to do Chicken Fat? | permalink
Trav: What's going on?
Ellie: You're Uncle Joe is dead, but you're allowed to start drinking.
Trav: Sounds like a plan. | permalink
Laurie: You said you'd be mean, but that cut like a knife. | permalink
Bobby: If you need me, Grayson's door is always open. | permalink
Ellie: Sweetie, you need big Joe?
Jules: He'll never leave. | permalink
Jules: What are you doing to me?
Ellie: I'm winding you up like a toy robot and letting you go. | permalink
Grayson: Tom can have my place in the gang. | permalink
Tags: Cougar Town, Reviews
Want more Cougar Town?
Sign up for our daily newsletter and receive the latest tv news delivered to your inbox for free!
From Around the Web
More From TV Fanatic
It's getting crazy on Gang Related! Lines are being crossed by gangsters and officers, is anyone in the right?
On Rookie Blue, Andy assists Sam in a missing persons case. Elsewhere, an undercover operation to track down illegal handguns sends Chris scrambling to maintain control.
Join us for the rewatch of Gossip Girl Season 2 Episode 9 "There Might Be Blood." What did you think of this episode?
Duck Dynasty Season 6 Episode 5 was all about re-branding. Read on for our latest rundown.
---