Criminal Minds is never for the faint of heart, but the combination of the bleak outdoor settings, the intensity of the child actors and, of course, the murderer remaining at large made "Into the Woods" one of the strongest episodes of the season, if not beyond that.
A child killer loose on the Appalachian Trail, which is 2,175 miles long for those keeping score, had the BAU springing into action to nab the UnSub before he kills his next victim(s).
He abducts kids and keeps them in some crudely-fashioned dungeon for months before killing them, wrapping them in a plastic bag, and leaving them in the woods to decompose.
Hope you weren't planning on eating breakfast.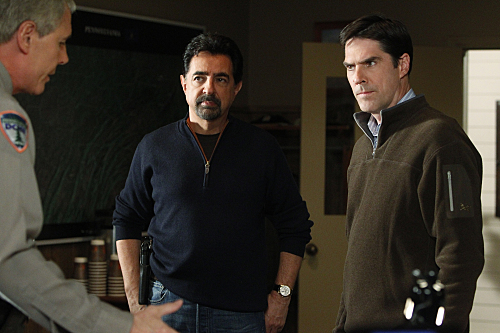 Criminal Minds: Appalachian Trail edition.

Joseph Lanham, the father of Daniel, the last boy whose body was found, is an early suspect until Garcia helps uncover a pattern of other abductions up and down the trail.

They started long before the Lanhams even lived in the area, although recently, the radius of the kidnappings has actually decreased to a 30-40 mile area of Pennsylvania.

Armed with that piece of knowledge, the BAU discerns that the abductor is staying much closer to home than he once did, quite possibly after suffering some form of injury.

Thirty miles out of 2,175 does help narrow it down.

The focal points of the episode were Ana and Robert Brooks, ages 9 and 10, who are taken from a campsite in the UnSub's territory. At some point, maybe there should have been an alert to keep kids off the trail once they realized who they were dealing with?

In any case, it's an abandoned coal mine in the hills of the Keystone State where they're being held, and where Robert hatches a plan in which he tells Ana to run "the next time he comes" for him. This was one of the darkest Criminal Minds scenes in some time.

Perhaps because there was no violence actually shown, and accentuated by the fact that it involved a 10-year-old about to be abused in the worst way, this was powerful imagery left to one's imagination. What a brave, brave thing for an older brother to do.

The BAU tracks the UnSub, Shane Wyatt, to the house of drug dealer and pedophile Brandon Hayes, to whom he has "traded" Robert for a supply of painkillers.

In a surprising twist, Robert is rescued at the end, but Shane eludes capture and escapes, presumably back to the trail. Anybody up for a hike this weekend?

You have to think he'll turn up again, right? The interesting thing was that the children really owned the scenes involving the killer, who remains somewhat of a blank canvas in terms of personality. Somehow, we can't imagine we've seen the last of him.

What did you think of last night's Criminal Minds? Discuss below!

Steve Marsi is the Managing Editor of TV Fanatic. Follow him on Google+ or email him here.

Tags: Criminal Minds, Reviews