Taylor Momsen has been largely absent from this season of Gossip Girl, her off-the-set antics are increasingly out of control, and news just broke of her "indefinite hiatus."
One would be forgiven for assuming this was the beginning of the end for her on the CW series, but insiders say not to read too much into it. A hiatus is just ... a hiatus.
Taylor "isn't going anywhere" and her behavior issues are "nothing new," sources tell E! News, noting that Gothic Barbie remains a big part of the show's future plans.
Just not in every episode.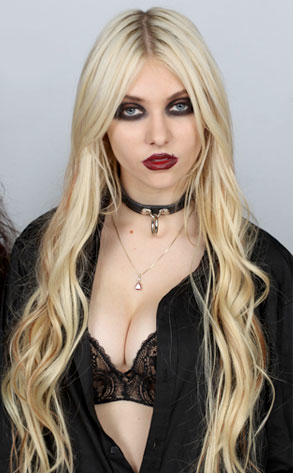 BAD SEED: Taylor/Jenny may be one at times, but she's sticking around.

Insiders insist Taylor's absence (she's only appeared in three episodes so far this season) has been largely a creative decision and that both sides are content with that.

"Jenny Humphrey isn't in college like everyone else, so it's often hard to weave her into the central story lines," says a source. "We don't want to just bring her in to hang out at the breakfast table with Lily and Rufus and say a line or two."

"We want a reason to have her there."

Moreover, Taylor is happy to have the time off to work on her music career as The Pretty Reckless' singer instead of hanging around all day on set for that line or two.

As for the diva rumors, sources tell me Taylor's behavior is nothing new. She's been "standing up for what she believes is right" (that's putting it nicely) since day one.

Tim Gunn aside, it doesn't look like anyone has beef with her, either. "Everyone likes her," says a source. "Her absence is driven by story. Anything else is speculative."

Well, that's good. Right? Tell us: When it comes to T-Moms ...


Steve Marsi is the Managing Editor of TV Fanatic. Follow him on Google+ or email him here.

Tags: Gossip Girl