Talk about going out with a bang.
The ending of "War at the Roses" was awesome. Like give-you-heart-palpitations awesome. The tension was likely boiling over in living rooms just as it was within Chuck.
Call it hate, love, or somewhere in between. Call it destiny. Call it the endgame of all endgames. When Chuck prepared to have his way with Blair on that table, it was hot.
Getting there was the only problem.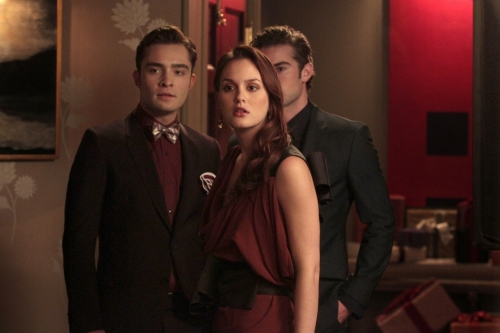 Chuck and Blair finally got back together last night ... sort of.
Despite ending on that epic note, and the infinite potential of next week and future episodes, we didn't feel this one was the show's best up until that point. Some things didn't click.
It's not that we expect Gossip Girl to be believable, it's that this week seemed almost too convoluted and contrived at times, without the reliable doses of humor. But we disgress.
As Blair's 20th birthday approaches, Nate and Serena have Blair and Chuck sign a legal peace treaty, one that prevents the ex-power couple from plotting to destroy one another.
Ridiculous as this is, it actually fits the characters and their over-the-top schemes. Their war games are, as Chuck suggests to Dan, far too complex for commoners to even grasp.
Leighton Meester and Ed Westwick can convince us of anything their characters do, as well, allowing for major creative liberties on the writers' part. Dan's role last night, though?
For whatever reason (Blair needing a new foil, basically), he decides to take Chuck and Blair down as revenge, and also to bring Jenny back to celebrate Lily and Rufus' anniversary.
Right away, we were skeptical. Why is Dan hell bent on this? Why is the one-year anniversary of a fifth marriage a big deal? Would sneaking J in be that hard? Would Chair care?
We can't say. But when he and Eric (?!) decide to plant a fake Gossip Girl story about Blair and Jack Bass hooking up, Chair sees right through it. Seriously, Dan, why even try man.
Meanwhile, Serena is still trying to resist Professor Colin. Six whole weeks is just too long. Juliet learns about S' woes and gets S to agree to let Juliet "chaperone" her at Blair's party.
Her job? Distract Serena when Colin's around. Seriously, they are reaching here. Juliet just volunteers this and S accepts? S can't be trusted not to maul Colin at a fancy function?
Eh, this is Serena, so we'll buy it.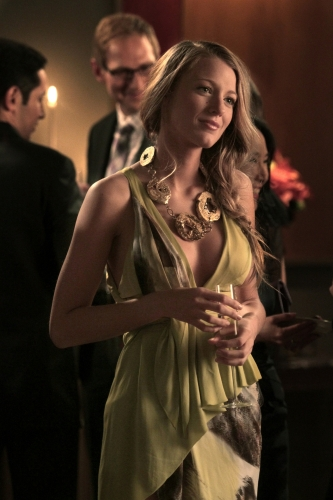 Can Serena last six weeks without jumping Colin? Decisions, decisions ...

Of course, Nate convinces Serena be her "chaperone" instead, which messes up Juliet's plan, and Nate has to work hard to calm S down as she sees Colin flirt with someone else.

As if things weren't confusing enough, Nate sees Colin and Juliet, then assumes they're dating and that Colin is Ben. Turns out Colin is Juliet's cousin and isn't in on this ... well, yet.

Things come to a head when Dan, having stolen the peace treaty and apparently read some juicy details, convinces a record exec named Rita that Blair's party is actually a roast.

Rita arrives with a video of Blair drunkenly serenading Chuck after a Robyn concert. Robyn is there personally, as well. This video humiliates Blair so much that she rushes away.

Again ... we don't see Dan pulling this off, or Blair not laughing off the incident. After all she's been through, Jenny included, THIS is a huge embarrassment to her? Come on guys.

Believing this was Chuck's doing, Blair confronts him until Dan reveals he was behind it. Rufus is disappointed he's become "one of them." So are we, for aforementioned reasons.

Juliet sneaks away to speak on the phone with Ben, who tells her that even if Colin is the professor in question, they have to use Serena's relationship with their cousin to ruin her.

Serena and Colin decide not to sleep together - our girl has such willpower! - but they do kiss in his apartment. Juliet apparently managed to install a camera there to capture it.

Finally, Chuck emerges after Blair's party ends to tell her the deal is over. Friends have to like each other and they're not friends. Blair agrees that she can't stand Chuck, either.

Peace treaty? Off. Pants? Also off. Aggressive sex? Oh, it's so on.

As Robyn's "Dancing On My Own" plays, the moment fans have waited for arrives, the night was somewhat redeemed, and if nothing else, we can't wait to see what happens next.

What did you think of last night's Gossip Girl? Discuss!

Steve Marsi is the Managing Editor of TV Fanatic. Follow him on Google+ or email him here.

Tags: Gossip Girl, Reviews