Life Unexpected Review: "Camp Grounded"
at . Comments
I really do look forward to watching Life Unexpected each week, and was surprised how much I missed it last week.
With that being said, I've come to the realization that this is just a guilty pleasure of mine.  A lot of what happens on this show is so very unrealistic.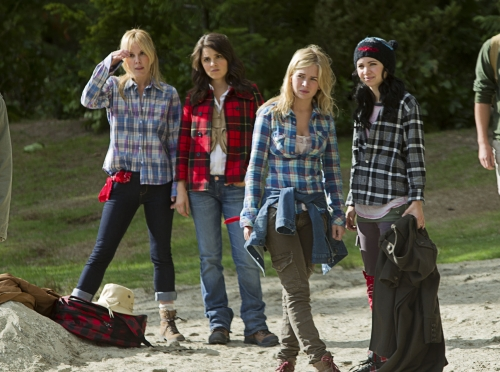 Last night's episode, "Camp Grounded," was the perfect example of what I am talking about.
Lux and the entire gang go camping. Already this sets up a situation that's very unrealistic. The only chaperons on the trip happen to be related to Lux - oh, and of course Eric would be there, too.
I get that the writers need to involve all the characters, but wouldn't it have been more realistic if Cate or Baze (and their significant others) stayed home?
I am uncertain about how I feel about the whole relationship unfolding between Lux and Eric. A part of me likes the idea of her being with him. I know it boarders along a pedophile relationship, but he really is only six years older than her.
In any case, he's her teacher and it's totally wrong. They both know it's wrong, but by the end of the episode Eric is holding Lux's hand. Really? Wouldn't someone notice this?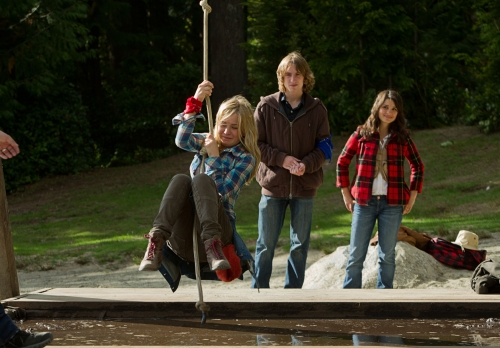 Or better yet, wouldn't someone notice that Lux chose to sit next to her teacher instead of her one and only friend?
I wonder if the writers are going to let these two illegal lovebirds get hot and heavy before the parents find out. How do you feel about this budding relationship?
Cate and Ryan also have a very tumultuous relationship. They really have been through a lot and I am surprised after everything, they both want to make it work.
I wouldn't have believed it if I didn't see for myself that Baze was the one person to get through to Ryan. If I was Ryan, I wouldn't let Baze get 10 feet near me, much less be my snuggle buddy in a tent. 
There's been some talk floating around the comment world that Emma is not good enough for Baze. After tonight's episode, I'd say I agree with Lux. I think she is exactly what he needs to get over Cate. Also, I must admit, I've been a fan of Emma Caufield from her 90210 days.
It would be nice to see Baze settle down with someone like Emma. As much as I always rooted for him to get together with Cate, I just don't feel it anymore. Cate has way too much baggage and I actually think she and Ryan belong together.
What did you think of this week's episode? Until next week, here are a few of my favorite Life Unexpected quotes:
Eric: I can't. I won't actually.
Lux: What?
Eric: Let you go. | permalink
Ryan: (to Baze) What the hell man. If I wanted to spoon, I'd taken up a tent with Cate. | permalink
Ryan: You know what they say about break-up sex...
Cate: Or make-up sex. But we're not making up are we?
Ryan: I don't know. | permalink
Eric: (to Lux) You are a grown up trying to act like a kid. | permalink
Math: If you first don't succeed...
Cate: Bite me. | permalink
Math: Tell me you didn't bring a date.
Ryan: No, I brought a chaperon to take Ryan's spot. You're welcome. | permalink
Tags: Life Unexpected, Reviews
Want more Life Unexpected?
Sign up for our daily newsletter and receive the latest tv news delivered to your inbox for free!