NCIS: Los Angeles delivered one of its better episodes of the season so far last night, blending a particularly complex case with some terrific character moments we loved.
"Bounty" took us inside the shady world of terrorist bounty hunters and the military's strange relationship with them. Case in point? The government's huge rewards for bad guys.
Know where Osama's hiding? That info could earn you $25 million, according to the FBI's Most Wanted List. He's #1, of course, but #2-500 still provide handsome paydays.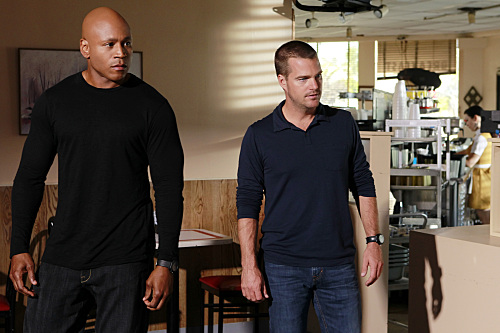 TRUST: It's no issue for these two ... Armenian mob stories notwithstanding.
Last night's victim was an Army special forces officer who retired to collect a $10 million price on a Taliban bomb maker that he couldn't claim as a government employee.
His killer was a Pakistani diplomat who does this for a living, leaning on his immunity to avoid prosecution and connections to gain access and basically work with the military.
Essentially, the government sees this loophole as a means to an end. If someone's willing to stick their necks out and terrorists are apprehended, it's worth the money.
At least until he takes out his own competition.
The dead soldier, Thomas Booth (no relation to
Bones
' Seeley) had no shortage of enemies, from the unit he abandoned to the teenage son he had no relationship with.
Oddly enough, the final piece of the puzzle was encoded in a photo of father and son fishing (a theme familiar from NCIS an hour earlier), sent in an 18th birthday card.
Knowing he might get whacked, Booth left the intel for NCIS to find, and with it, Callen and Sam went to Afghanistan to apprehend the bomb-maker AND bounty hunter.
Talk about a two-for-one special. No wonder Hetty gave it the green light. This case was multi-layered and more of a thinker than the typical firefight fare from NCIS: LA.
Deeks' connection to the younger Booth was a nice touch, especially the message he wrote on the card, clearly drawing on his own experiences with an absentee father.
PARTNERS: Kensi and Deeks are working on their dynamic.

Hetty's lesson to him about trusting his partner was brilliant, too, given the sheer level of detail she put into the made-up story about Sam and G. Hey, we bought it too.

Cheesy as it seems at times, we love the Kensi-Deeks dynamic. Not only is it cool that she's the better agent, there's good chemistry there as well as quality one-liners.

Will she hold more than his Beretta one day? It remains to be seen.

Overall, this was a solid episode that didn't rely too much on the flashy special effects (not that we don't enjoy those) that often comprise too much of NCIS: Los Angeles.

When the case keeps you riveted and you learn something about the characters, while laughing at least half a dozen times, you've got the recipe for a strong TV program. Well done.

Oh, and if the promo for next week is misleading again and we're only meeting Hetty's fake husband (like Callen's non-wife a few weeks back), we're not going to be pleased.

A Hetty origin episode already has us intrigued. Here's hoping it doesn't fall short.

What did you think of last night's NCIS: Los Angeles?

Steve Marsi is the Managing Editor of TV Fanatic. Follow him on Google+ or email him here.

Tags: NCIS: Los Angeles, Reviews