This week on Private Practice, Addison came to a surprising realization, Pete confronted his family's checkered past, and Charlotte finally came face-to-face with her attacker.
"Can't Find My Way Home" was loaded with emotional scenes and heavy stories, even relegating the rape story line to the back burner at times, which was no small feat.
To say Pete comes from a troubled background is an understatement. His brother, Adam (Kyle Secor), shows up to say their jailed mom Frances (Louise Fletcher) is dying.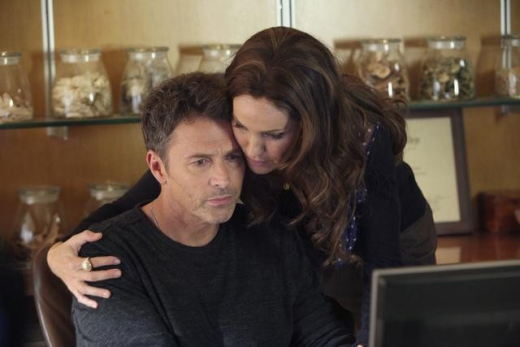 Violet tries to help Pete confront another impossible situation.
The goal, if Pete can find it within himself, is to win Frances a humanitarian release. He agrees to "spin" her condition so she'll get it, and Sam agrees to lend his name to the effort.
Funny thing, though. Just as he's convinced himself this is the right thing to do, Pete realizes that his mom really hasn't changed, and questions his own motivations in helping her.
He feels this is some bizarre, emotionally repressed decision by which he's really trying to win her love by springing her. Making things tougher is his brother, who's pushing for it.
Pete does want a relationship with Adam, but that's probably not happening if he doesn't help their mom. After all of that, it looks like Pete's going to remain estranged from both.
Emotional blackmail can be tough, even when you're doing it to yourself. Seeing Pete come to grips with the past and debate the right course of action was compelling and sad.
Elsewhere, Amelia wants to perform a risky surgery on a woman's brain, but the woman resists, not wanting to change leaving her daughter alone should something go wrong.
Addison supports this. Amelia does not, for reasons pertaining to her own background, which we are familiar with from her stints on Grey's Anatomy and Private Practice so far.
Addison believes she could have 10 good years without surgery, but Amelia says she offers a lifetime - something she never got with her father, after he was brutally murdered.
Amelia does her thing and the woman comes through. She was right, and Addison knows it. Her "10 years" argument failed the ultimate test, as family bonds can't be measured.
She tells Sam that she wants a baby. Soon! Think they'll really do it?!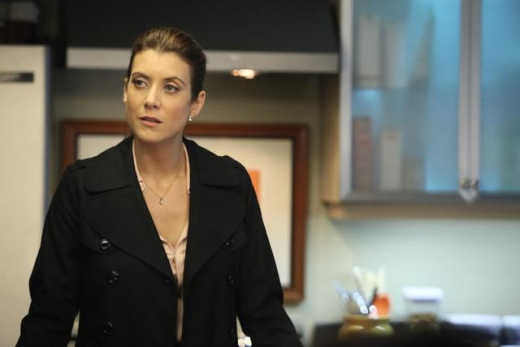 Addison ... future mom?

Finally, we have Charlotte. Cooper still has no idea what happened to her, but Sheldon and Addison do, and Dr. King is LIVID that they shared this information with the police.

With a two-way mirror between them, Charlotte looks her attacker in the eye, then balks. This has likely happened countless times in real life, making it even more painful.

Sheldon is stunned to see Lee walk free, and follows him inexplicably, where he sees him approach a woman. This turns out to be his girlfriend, who's playing with their kid.

Violet, who was there ostensibly for moral support, realizes Charlotte lied at the lineup, then calls her out, which was a boldly awesome move, even if Charlotte lashed out.

Between Violet calling it like it is - she was there because Cooper would have seen through the lie - and Sheldon telling Charlotte about Lee's girlfriend and son, she finds it within herself to do what must be done, no matter how difficult it is. Powerful stuff.

Violet tells Cooper that Charlotte raped. He doesn't take it well, but vows to do whatever he can to help get Lee off the street. But Charlotte beats him to the punch.

You could FEEL the courage in that scene. The gut-wrenching agony of having to return a second time was almost more than she could take, but Charlotte did it. She did it.

What do you think will happen next? Will they square off in court? Will Addison and Sam try for a baby? What did you think of last night's Private Practice overall?

Steve Marsi is the Managing Editor of TV Fanatic. Follow him on Google+ or email him here.

Tags: Private Practice, Reviews