We've often commented, and not always positively, about how the characters on Private Practice are routinely placed in difficult, if not unspeakably terrible situations.
This often strikes us as melodramatic and unrealistic, not to mention upsetting. However, the way Charlotte's current story is playing out is compelling, startlingly real.
"What Happens Next" chronicled exactly that. In typical Charlotte fashion, she returned to work and tried to move past what happened, but it simply wasn't possible.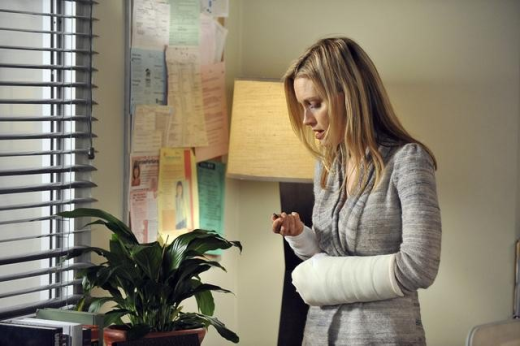 For Charlotte, it's going to be a long road back.

Everyone tries to help in their own way, as one's friends and colleagues would in real life. Some are overt, some more indirect. Some are a bit more successful than others.

It's supremely well done on the part of the writers and actors, even if the plot itself turns some viewers off. KaDee Strickland makes you feel Charlotte's pain like your own.

The rest of the cast is terrific, too, grappling with what happened as it pertains to a close friend/partner, but also to themselves, as Addison and Sheldon in particular found.

While naked in bed underneath Sam (quite the sexy afterthought), Addison reveals that she gathered DNA evidence from Charlotte, but withheld it and thus broke the law.

By the end, Addison contacts the authorities to reveal that she has evidence of a rape that needs to be processed. Sheldon tells police he knows the victim of their suspect.

Whether she's forced to confront her attacker may be weeks, if not months off, if it happens at all. That's what makes this story so good in a way, like it evolves in real time.

Despite her tough exterior, but it's obvious Charlotte's hurting, big time. When Violet tries again to speak to her - detailing her own rape in college - it's too much to handle.

Charlotte finally lets out her emotions after Violet leaves. So sad, but moving. When she asks Amelia to take her to an AA meeting, it's clear this recovery will take a while.

The night's cases featured a pair of people basically willing to give up the fight and pass away for the sake of others they loved. Typically heavy stuff from Private Practice.

Sheldon treats a woman, Rachel, who beats husband Nick because a tumor has boosted her testosterone levels. Surgery to fix the tumor does not go smoothly whatsoever.

At this point, it's either go into hospice care or continue an uncontrollable pattern of outbursts. In a heartbreaking decision, she decides to put Nick ahead of herself at last.

Meanwhile, Pete and Cooper treat Elisa, a girl battling lymphoma. Her father, Diego, asks a shaman to intervene with her treatment, which causes strife between them.

After surgery saves her temporarily, Elisa says that she doesn't want chemotherapy and wants the shaman to heal her. But that's motivated largely by financial concerns.

She's bankrupting her family, and is willing to take her chances with alternative therapy in order to put their needs first. The judge has heard enough and orders chemo.

In a nice move, Cooper arranges for a shaman to work with her on top of the chemo. Both cases were touching last night, but especially this one and its resolution.

What did you think of last night's Private Practice? What do you think will happen next with Charlotte? Sound off below by leaving us a comment.

Steve Marsi is the Managing Editor of TV Fanatic. Follow him on Google+ or email him here.

Tags: Private Practice, Reviews