The Real Housewives of Atlanta Review: "Is There a Doctor in the House?"
by Arlene G. at . Comments
I knew this week's episode of Housewives would be a doozy when it started with Apollo asking Phaedra if she's "ready to drop the load" in reference to her giving birth.
Up that class quotient!
"Is There a Doctor in the House?" began with Phaedra and Apollo arriving in Augusta at some sort of B&B "plantation" where they're prepping for the arrival of the baby.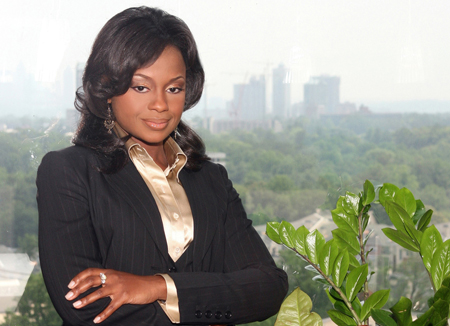 DROP THE LOAD: Phaedra Parks is getting ready to.

Dr. Lue, her OB/GYN and the only man Phaedra will let near her vagina, meets with Phaedra and Apollo. Dr. Lue and his wife warn Phaedra and Apollo how much their lives are about to change.  No time for pedis?  Facials? Massages? This kid's already cramping Phaedra's style.

Meanwhile, Kandi celebrates her 34th birthday at a party at TAGS, her recession-proof boutique. Lisa Wu-Hartwell shows up as does Sheree, Kim and Cynthia.

Kim's gift to Kandi is one of her custom wigs.

Kandi would much rather have preferred royalties from "Tardy for the Party," but this scraggly-assed red mop will have to do. Kim and Cynthia give Dwight the third degree on how far along Phaedra really is and wonder why Dwight's covering up for Phaedra.

Kim thinks Dwight's a shady MF and he must be the dad. No... not in this lifetime Kim.

Nene decides she wants to be a celebrity entertainment reporter so she meets with her local news anchor friend, Karyn Green, and wows the suits. Starstruck by Nene's "fame" and celebrity connections, the suits agree to give her a shot.

Phaedra checks out of the B&B plantation and into the hospital to drop her load. Pastor Regina Bell, Phaedra's mom, shows up to visit her daughter and Dr. Lue shows up to hit Phaedra up with Cervidil which will loosen her cervix. TMI at this point people.

Continue reading our review of The Real Housewives of Atlanta ...

Tags: The Real Housewives of Atlanta, Reviews
Want more The Real Housewives of Atlanta?
Sign up for our daily newsletter and receive the latest tv news delivered to your inbox for free!
More From TV Fanatic
On Tyrant, Bassam attempts to find a peaceful resolution instead of a revolution. Will he succeed?
On tonight's Covert Affairs, Annie and Auggie switch jobs and head to Paris. Will Auggie succeed in the field with Annie as his handler?
A leg went flying on The Real Housewives of New York City this week. You must read this review.
On Perception, Daniel and Kate try to track down a missing baby. Kate also must deal with Donnie's talks about their own future children.
---