Enjoyable as Bones is, this week's episode felt like an interlude with little at stake.
Largely responsible for these apathetic feelings is the fact that we know some major stuff is coming up soon (see Bones spoilers) and none of them happened last night.
As Bones episodes go, "The Twisted Bones in the Melted Truck" was forgettable, though it did provide a great make-you-sound-smart-at-a-party factoid: while bones don't melt, heat of 500 degrees centigrade can alter the chemical composition, giving them that appearance.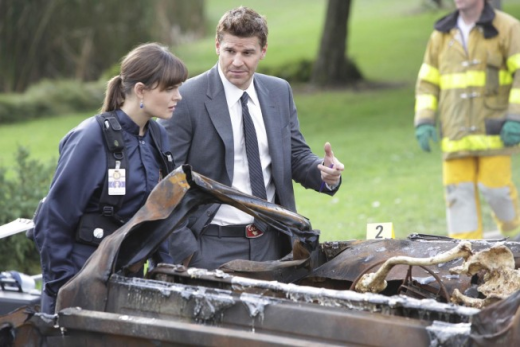 FRIED: Bones don't melt, but Booth has cooked with a lot of cheese.
The point of this episode, it would appear, was to make us like Hannah more, and it may have even succeeded a little. The way she tried to reach out to Parker was quite endearing.
Booth was nervous about his live-in girlfriend and Parker meeting for the first time, what with Parker already declaring that he hates her and all (up top, P!) and her not liking kids.
Come on, tell us you didn't crack a smile (a slight one? maybe?) when she decided to just be honest with him and eventually won him over a little? Gotta give Hannah her due.
At the same time, you can sense Seeley is forcing all this a little. Just the way he got defensive about the relationship's seriousness with Sweets indicates he's not too sure of it.
While it's far from clear what the producers' endgame for Hannah might be, and we've yet to see a true "a-ha" moment that leads Booth and Brennan together, it may not be far off.
The writers get credit for introducing a realistic character, one that can be likable at times, that Booth does care about, and who hasn't simply vanished into the wind after a month.
Seriously, though ... how long is she sticking around?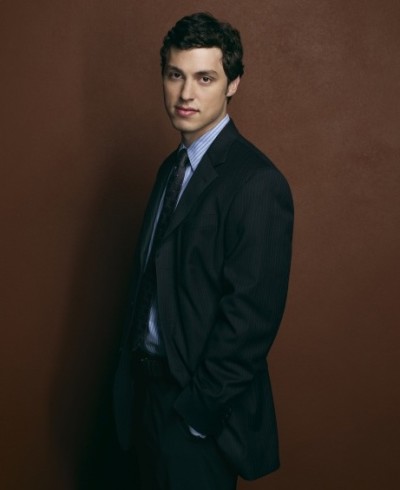 SWEETS' SPOTS: Is it just us or is he funnier than ever lately?

Elsewhere, Daisy's quest for a permanent spot at the FBI, requiring her to pass a psychiatric evaluation, resulted in some enjoyable scenes. Namely involving Ms. Wick cheating.

Is she really coming on board? Will she be the ill-fated recurring character felled by the sniper later this season? Just one theory, but we know someone's going to pay the price.

On a side note, the "real" patients Sweets meets with - and whose sessions are often delayed by his office dalliances - are hilarious. Last night's? Multiple personality disorder.

The case wasn't among the season's best, but did lead to the King of the Lab taking one for the team via an experiment, and involve Brennan's brilliant deductions, as always.

Her interrogation skills could use some work, though. Temperance isn't as bad with youth as she thinks, but the menstruation line gets an 8.5 on the Bones Awkwardness Scale.

As Parker put it, Bones says weird stuff all the time and she is cool. Hopefully, she has an epiphany soon about what she let go and they spend a lot more time with each other.

What did you think of last night's Bones? Comment below!

Steve Marsi is the Managing Editor of TV Fanatic. Follow him on Google+ or email him here.

Tags: Bones, Reviews