Burn Notice Review: "Dead or Alive"
by Jim Garner at .
There is one thing you can say about Sam Axe: he is a dedicated and true friend. On "Dead or Alive," we saw how deep that friendship can run when he helps clear a pal's name.
The normal routine for Michael and the Scooby gang is that someone needs help, they come to Michael and he recruits the others to help him. If you think about it, the show's introduction actually tells us this much every week. However, there are rare treats, such as this installment, where the mold is broken.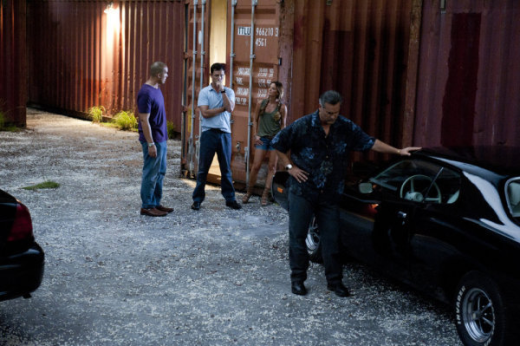 I have said before that I think Bruce Campbell is awesome, easily one of my sci-fi heroes. This episode was a great example why.

You could feel his anger when Ted told him that Kevin was dead, or when he held a cop at gun point and said he would take his lumps as long as Kevin's name was cleared. I want a friend like Sam Axe. Of course, I wouldn't mind having a friend like Bruce Campbell, either.

On the other side, Jesse and Michael seemed like they were so close to being back in. We all knew this was not to be, though. First, it was way too easy and, second, it was not the season finale. Rest in peace, Marv, you were a good handler, the viewing audience and Jesse will miss you. Okay, maybe just Jesse.

Seriously, though, given the sheer volume of foreshadowing that Michael, Jesse, and Sam did about how "hot" this list was, was anyone really surprised when it turned out Marv was being blackmailed into get the list for Brennan?  Let me clarify, this is not a complaint; my palms were sweating as Jesse and Michael met Marv on the parking garage's roof. I was waiting for swat, helicopters, something. I was totally not expecting Brennan.

What did you think of the episode? Did it build expectations for next week's two-hour finale?



Jim G. is a TV Fanatic Staff Writer. Follow him on Twitter.

Tags: Burn Notice, Reviews
From Around the Web