CSI: NY Review: "Shop Till You Drop"
at . Comments
It was less "Shop Till You Drop," and more shop till you get a little tired and need a nap this week on CSI: New York.
The episode wasn't bad, but it wasn't nearly as engaging as previous episodes this season. It was a middle ground, fair and easy holiday story with added moments that were meant to, perhaps, inspire, but merely fizzled until the ending credits rolled.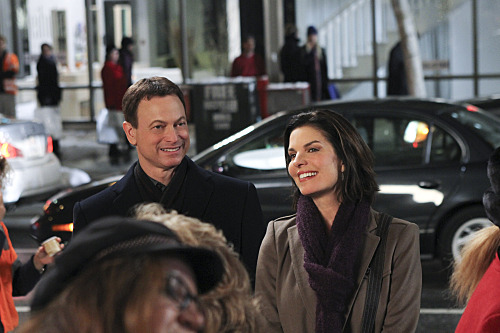 The story and mystery were light and a bit easier than normal to unravel. The dead body of a department store manager found in a fancy window display was an intriguing start, but lacked any real weight once the team got into the meat of the mystery.

It was touching that a dying woman should want to help those employees she felt were in need, and it was easy to rally around the character once it was revealed that the murdered manager was a bad guy. But there wasn't enough suspense in the overall plot to have made me really care how the episode would turn out.

Would the woman be charged with murder? Would the money she had stolen to give to her employees that were going to lose their jobs be returned to the store?

The answers were far too easy to come by, because of course the character set up as the victim with a Robin Hood mentality would get away with the crime. I'm not sure the story would have been more engaging had that not been the case.

The interactions between Jo and the murder suspect, Alena, were touching and well played, but I wouldn't have expected anything less from Sela Ward's portrayal of Jo Danville.  In fact, Jo and Alena had some of the best lines in the show, but it wasn't quite enough to lose the feeling that the outcome of the episode was at all important.

I believe that this was probably meant to be a softer episode since it's the beginning of the holiday season, but it's possible for there to have been a soft and inspiring tale without taking away the suspense that helps to make CSI: New York such an excellent show.

The acting was fair. The writing was fair. The episode was fair. Unfortunately, after some really strong episodes fair becomes down right disappointing. Hopefully, the suspense and superb story telling will return with the next new episode.

Tags: CSI: NY, Reviews