Following one of the best episodes in series history, Fringe fans are both excited and afraid to look ahead to 2011.
The former emotion stems from Olivia's return home and what this means for upcoming storylines; the latter is a result of Fox moving the drama to Fridays (starting January 28), a decision that rarely bodes well for a show's future.
In a new interview with TV Addict, producers Jeff Pinkner and J.H. Wyman touched on both these topics.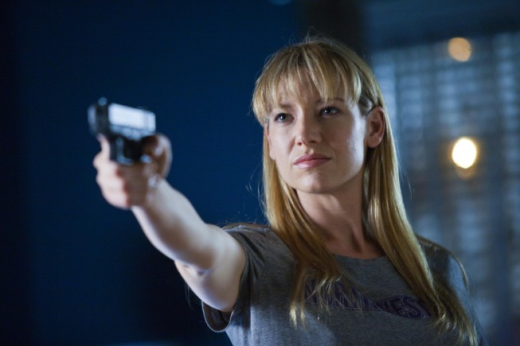 Wyman, on moving to Fridays: We have a tremendous amount of support from FOX...aA lot of time shows that move to this time slot don't last, but I think that has more to do with the quality of the television show and how it's doing than it is a market... We're going in there with 100% confidence.

Pinker, on storylines in 2011

: The rest of the [season] will be the consequences and the fall out of what happened both emotionally and plot wise for all our characters. As we've said from the beginning, we're committed to telling stories Over There and the first half of the season will dramatically change the conditions Over There. Once Olivia returns to our side, the storytelling's not just going to be contained on our side.

Wyman, on revealing The Machine: We don't want to drive things out and make people frustrated with what that machine is and what it means to the series and the characters themselves. By the end of the session, you're going to fully understand what that machine is and what it's purpose is. What it's for. Meaning for this universe and that universe and what it means to our characters. We definitely are going to have some sort of resolution.

Matt Richenthal is the Editor in Chief of TV Fanatic. Follow him on Twitter and on Google+.

Tags: Fringe, Interviews, Spoilers