Leverage Review: "The Ho, Ho, Ho Job"
by Jim Garner at .
As promised in September, TNT brought Leverage back for three holiday episodes in order to finish out its season.
With that in mind, this week's "The Ho, Ho, Ho Job" was a nice Christmas present for fans of this light-hearted drama.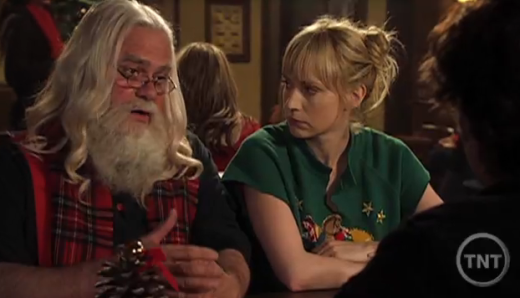 From the candy cane-looking crowbars the robbers used to the four-on-one Santa fight, so many details of this episode reflected the holiday spirit, something that would not have been complete if the team's client hadn't been Saint Nick.

Is anyone surprised Parker loves Christmas and believes in Santa Claus? I'm not. Beth Riesgraf did such an amazing job of playing out the joy and wonder of the holiday that many often forget while we are racing around dealing with crowds, malls, traffic, etc. The look of wonder in her eyes when it started snowing at the end of the episode had me tearing up bit.

I'm going to assume that the gift that Sophie gave Nate at the end of the episode was her real first name. Sadly, viewers didn't get an early Christmas present and learn what that is, but at least Nate now knows and the cat-ann-mouse game they have been playing can move on to other things.

Besides, now we have a better chance of Nate slipping at some point and revealing it. I'm not being a scrooge to much about it right now because I'm sure when we learn her real name, it will be in a fairly dramatic (or comedic) fashion.

One of my favorite characters was also back this week: Will Wheaton as Chaos. From a technical point of view, I think Will was over playing the "grinning because I won" aspect. However, that tiny bit aside, I was reminded how much fun Wheaton can be as a bad guy.

For anyone who has caught the Web series "The Guild" you know that he does a very good job playing the arrogant, pompous, asshole, and if Chaos is nothing, he is a huge asshole.

Overall, it was a great episode. It was really nice to get to spend a little holiday time with old friends such as Nate, Sophie, Hardison, Parker, and even Eliot. See you all next week when we finally get to meet the mysterious Moreau!

Jim G. is a TV Fanatic Staff Writer. Follow him on Twitter.

Tags: Leverage, Reviews
From Around the Web