Psych followed up its Twin Peaks homage with a less epic, but still very entertaining, shout out to Police Academy in this week's "We'd Like to Thank the Academy."
First and foremost, I loved that they had Shawn and Gus in uniform for a vast majority of the hour. They wore them well. Second, thumbs up for executing an episode that wasn't the direct result of a homicide. This is probably the only Psych case that hasn't actually involved a murder, as all the key players in the crime remained alive.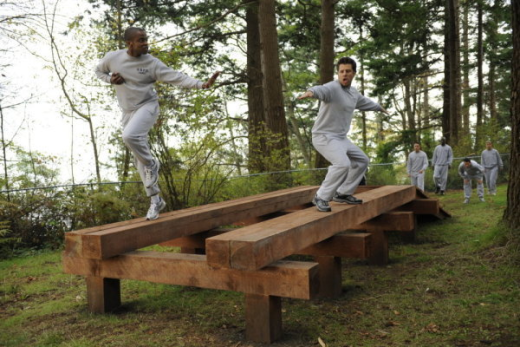 This week's episode was the first time we've seen Chief Vick since before the summer finale. It was nice to know that Kirsten Nelson is still in the game, as she's always a much missed character in her increasingly frequent and prolonged absence. I look forward to seeing her a little bit more in these next few episodes.
It was also interesting that they started out the episode with the sting operation that was actually initiated by a piece of information Shawn imparted on Lassiter. The important part about it was that Lassiter actually bothered to follow up on it in the first place.
It's a bit of an ode to the careful developmental work on behalf of the writers to show that Shawn, Gus, Lassiter and Juliet are becoming more of a team than they were when the fourth season ended, and have continued to work more closely as season five has progressed.
This development will surely continue, seeing as Shawn and Juliet are now in a relationship and Henry's role in the department has continued to grow. Not only that, but we at least got to see all the major players in the department, including Buzz.
I don't remember the last time we had an episode where everyone was playing such an active role, but perhaps that was only a function of the episode having so much to do with the police department.
I was surprised, however, that they didn't make a bigger deal of Henry perhaps feeling somewhat triumphant that Shawn was forced to go to the police academy. That was Henry's dream, after all. Why else did he go through all that trouble of teaching Shawn all those refined observational skills?
In retrospect, it may not have truly been conducive to the episode, especially considering they didn't truly finish because the Chief reinstated them as consultants in order to solve the case. Still, it is interesting to note that they passed up a prime opportunity to incorporate that aspect of Shawn' s relationship with his father.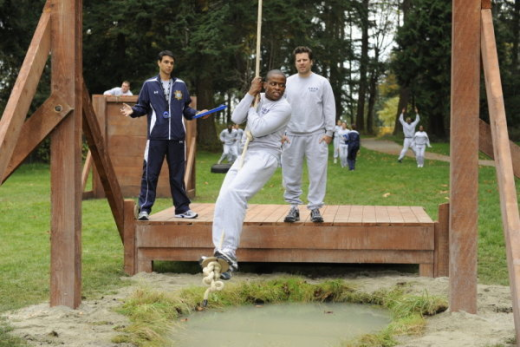 A particularly interesting and enjoyable feature of this episode was that they had Karen and Henry calling Shawn and Gus out directly and as a team. You don't see much of Henry and Karen interacting, mostly due to the Chief's sporadic appearances, but I have never seen them directly speaking to the duo about its tactics.

I also found it fascinating that it was, in fact, Juliet's idea to sentence Shawn and Gus to the police academy as punishment for their interference with Lassiter's carefully planned sting. It was very sweet that she suggested it was for Shawn's own good, mainly to lessen his chances of getting killed in the line of duty.

These are the subtle ways in which we see Juliet show her feelings for Shawn.

An additional tidbit that I enjoyed was Carlton picking on somebody. Rarely do we see a situation where Carlton is the aggressor, egging someone on by being as deprecating as he could possibly be. That's usually not something he does, but it was executed in such a way that made it entertaining.

This episode was a complete 180 on the scale from being a non-relationship centric episode to a very group oriented episode that made sure to include all the faces of the SBPD we know and love. It created a nice balance that I didn't appreciate until I took a moment to ponder it.

In the meantime, Psych-os everywhere can rejoice that, just in time for the holidays, Psych is gifting fans with not one, but TWO, all-episodes next week! Is everyone as excited as I am?

C. Charles is a TV Fanatic Staff Writer. Follow her on Twitter.

Tags: Psych, Reviews