Everyone who thinks Virgil Minelli is Red John raise your hand...
He's been my pick since season one.  Why else would bring this character back on "Jolly Red Elf," not that I can ever complain about watching Gregory Itzin for any reason. 
But if I suspect Virgil, Jane must do the same. Did he bring his suspicions to Minelli for this reason? Is Jane playing his own mind games?  So many possible twists and turns in this serial killer story. It's hard to be sure who believes what anymore.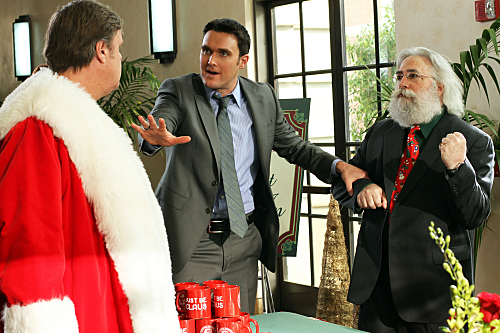 I can't say the Santa story intrigued me, but I liked the banter between Jane and Lisbon over Christmas and Saint Nick:
Jane: So you took the whole Santa revelation badly.
Lisbon: Crushed my heart like a cigarette. | permalink
Can't you just picture a heartbroken little Lisbon?  Even the look on her face as she said it was adorable.

LaRoche's investigation into Todd Johnson's death was what captured my attention.  Why wasn't that green lighter listed in the evidence report?  Why was LaRoche carrying it around in an evidence bag in his pocket?  Did it make it to the FBI crime lab?

La Roche was such an enigma.  You could never tell what he was really thinking because you could barely see the man's eyes.  They were just narrow slits.  How do you trust someone when you can't look him in the eyes?  And is Jane actually his main suspect?  As Lisbon said, Johnson was on fire when the guard opened the cell door.  Jane was upstairs with her and probably plenty of other witnesses before that. 

Why target Jane?

All of that leaves me wondering if LaRoche has a connection to Red John.  Or maybe The Mentalist just has me paranoid.  So... LaRoche, Virgil Minelli, or do you have your own guess?  Lay your bets.  Speculate.  We have a lengthy hiatus ahead of us for fans to take their best guesses. Have at it!

C. Orlando is a TV Fanatic Staff Writer. Follow her on Twitter.

Tags: The Mentalist, Reviews