Hawaii Five-O Review: "Kaie'e"
at . Comments
I'm torn about this Hawaii Five-O episode.
On one hand, "Kaie'e" was very exciting, surprising me by bringing up potential consequences from the money the Five-O had taken in order to save Chin's life. This required serious suspension of disbelief.
I was nearly able to get into that head space, but once McGarrett started to suspect that the tsunami wasn't real, it made it difficult to do so. The hoax seemed too grand a scheme to be pulled off without more people realizing it was a fake.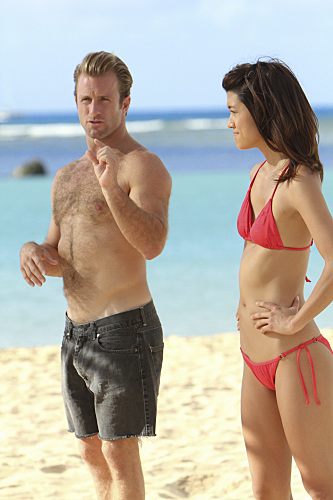 The episode was saved by the reveal that the hoax was a setup to steal cash from the H.P.D. evidence locker, as we saw the severe consequences an investigation would bring for the Five-O.

No one in the group showed regret for taking that money, but Danno did bring up a valid point that the team had been over-stepping things in order to solve the crimes they had been investigating. And of course there was the big surprise at the end when all the members were willing to face the music about the missing money, only to find out that all the money was accounted for.

My main theory is that the governor is covering for McGarrett and his crew, but I have a second one: It may be possible that Wo Fat had the money returned as well, because villains never need a good reason to mess with heroes.

Elsewhere, I always enjoy seeing Danno's daughter Grace. Her scenes added a light touch to a pretty intense story.

McGarrett's quasi girlfriend helped play a vital role by generously using government equipment to assist in the investigation. I sort of like the character, but it would nice if we could get a little more of her than brief morning-after shots, or scenes where she's blatantly doing something that could get her court marshaled.

Despite the few moments where the slight ridiculousness of the scenario hit me, this was a good episode. I'm looking forward to future developments regarding the reappearing money.

Tags: Hawaii Five-0, Reviews