There are plenty of boxing movies that follow in the vein of the working class fighter struggling to win in both the ring and life. Raging Bull, Rocky, and The Fighter are films that most easily come to mind.
However, while the trials and tribulations begin and end within two hours, Lights Out has the perfect opportunity to take its time and explore a multitude of situations that affect a retired boxer and the people around him.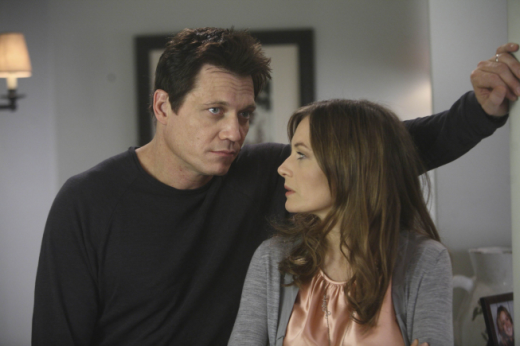 On this pilot episode, Patrick "Lights" Leary is at the center of this drama. From the first shots of his bloody and battered body, this heavyweight champion is certainly beatable. He's not super human and, like every one else, is susceptible to defeat. Yet, even as he shrugs it off, his wife gives him an ultimatum: Either leave boxing or she'll leave him.
A flash forward five years later reveals Patrick's choice to retire from boxing, but his controversial last fight still hangs on his mind. Sure, he misses the sport, but he isn't regretful of his decision. Instead, he plays the dutiful stay-at-home dad, taking menial jobs in order to support the family he loves.
Unlike the aforementioned movies, Lights Out does offer a gritty and interesting look at a family surrounded by the world of boxing.
The pacing felt slow at times, but the premiere serves to set up the characters and potential storylines for the series. Don't worry. The feeling of clichés will soon evaporate as the series progresses.
In fact, one of the more interesting revelations was the pugilistic dementia. Patrick recognizes that he might not have long before his body and mind begin to break down. It will be fresh to watch this disease take effect and to see how Patrick deals with it. It's not something most boxing films focus on and can offer plenty of depth to Patrick's character.
One of his most prominent features is his moral code. He refuses to tell his wife about the dementia or his money problems. So, when he learns they are broke, Patrick proves that even the most noble of men will go to extremes to support family.
This includes breaking arms to collect money for the shady Hal Brennan. Honestly, I didn't feel sorry for the dentist, as he came off as haughty and arrogant. What will be interesting, though, is the depth Patrick becomes connected to Brennan, despite his claims to never do his jobs again.
Of course, the problems wouldn't have occurred if not for his brother, Johnny, who spent all of Patrick's money. He, too, seems to be dealing with his own family issues with an ex-wife breathing down his neck and seeking child custody. There's even the potential for jealousy and resentment of Patrick's fame to come between them.
Which leads to the ultimate backdrop of the show: the comeback. Patrick seems to think he won his final fight, but after five years, could he really win in a rematch against "Death Row" Reynolds? This training will put him back in the game and reignite the relationship with his father, but there's the potential to put a strain on his marriage.

Does he have what it takes? Will the payoff match at the end be worth the character development and slow pacing? Will he get a Rocky-esque theme song?

Holt McCallany shines as a man with multiple sides. He truly can illustrate Patrick's pride, anger, sadness, determination, and love often without words. He knows how to be loving and caring, as well as capable of throwing out a Terminator stare at his daughter's boyfriend.

Ultimately, Patrick is someone to root for rather than feel sorry for. He might have a long way to go, but watching him overcome his struggles is something to look forward to.

The show isn't perfect, with dialogue that at times can feel shaky, but the characters seem interesting enough that it's not a large complaint. Did anyone notice Catherine McCormack's accent slip in occasionally? I wonder if she'll tell Patrick that they can take their lives, but they'll never take their... FREEdom.

Lights Out is certainly for the boxing fan, but others will find that the family drama, reminiscent of The Sopranos, will be just as enticing. So while it may take some a little time to get into the show, there is definitely the promise of a well-written story and an intriguing look into a boxing family. Everybody loves a comeback.

Sean McKenna is a TV Fanatic Staff Writer. Follow him on Twitter.

Tags: Lights Out, Reviews