You will save her life.
Punctuated by a slap in the face, this is how Addison's mom, Bizzy, instructs her with regard to Susan's condition. Addison has dealt with high expectations her whole life, but the events of "If You Don't Know Me By Now" took it to new heights.
Susan battle with Stage 4 ovarian cancer comprised the bulk of last night's Private Practice, the first of 2011 (as was Grey's Anatomy). Addison said it was a lost cause, but with some coercion from Sam and an assist from Dr. Rodriguez, changed her tune.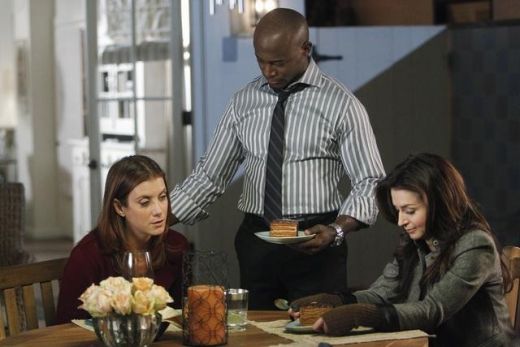 Sam's "I have never ever seen you back away from a fight" quote struck a chord with Addy, who devised a plan to operate using a precision-cutting machine and heated chemo.

Dr. Rodriguez, of course, is skeptical. He's also in, obviously, because any excuse to be with Addy is a good one, right? That and the chance for pioneering medicine, of course.

The operation is a success, but that wasn't even the biggest shock of the evening. Having not received so much as a thank you, Addison goes to give Bizzy a piece of her mind.

Before she can, mom drops the bomb: "I've divorced your father and I'm marrying Susan." Sometimes life throws at us more than we can bear, or at least process right away.

How Addison responds in the coming week will be interesting to see. It wasn't long ago she learned her mother hid her true self for so long. Now we're at the opposite extreme.

Meanwhile, Pete and Amelia run into an unusual roadblock in their efforts to treat Cory, a brilliant engineer whose brain is about to hemorrhage after a near-fatal car accident. 

His wife, Patricia, doesn't want any surgery done on him that will affect his mental capacity at all. That runs counter to the best intentions of Pete ... and Cory's mistress Janel.

She just wants him to live to see his child be born. This is awkward on so many levels. Pete's decision is made for him - or he makes it, more accurately - when Cory crashes.

After the surgery, which Patricia objected to but Pete did anyway, she doesn't even show up to see him. Only Janel does. Was she only married to his intellect this whole time?

This was one of the classic Grey's Anatomy / Private Practice cases where one doesn't entirely know how to react. You're happy he made it, but very sad on peripheral levels.

Speaking of mixed feelings, Violet's "journal" (an 837-page manifesto) has generated interest from a publisher. The memoir is great, but does she really want to share it all?

The attack she suffered was unspeakable, and Violet is having second thoughts about putting that out there. But Charlotte says it helped when Violet talked to her about rape.

Perhaps she might lend a hand to others, too. As she left to meet with the publisher and Pete said "Lucas's mom is amazing," tell us your eyes didn't tear up a little. Anyone?

Finally, a new stage of Charlotte's attack aftermath. The show is covering all the bases, from the police investigation to the victim's intimacy problems, and it's compelling.

Cooper tells Sheldon he wants to have sex. Sheldon is flattered (har har). On a serious note, they both know easing back into things with Charlotte is not going to be easy.

Charlotte appreciates how understanding and helpful he's trying to be - as opposed to the times he tries to solve everything at once and simply makes things worse instead.

Sadly, after she says they can give intimacy a try, she clearly can't yet. It's going to be a struggle for some time, as it undoubtedly is for real-life victims of such heinous acts.

Same goes for Cooper. Now he has doubts. While not comparable to enduring the assault first hand, it's been hard on Charlotte's partner too, which is important to recognize.

They're damaged, but fortunately, they still have each other. And friend chicken.

What did you think of last night's Private Practice? Discuss below!

Steve Marsi is the Managing Editor of TV Fanatic. Follow him on Google+ or email him here.

Tags: Private Practice, Reviews