With our favorite prime time shows on hiatus, TV Fanatic is taking a look back at some buzzed-about programs and grading their performance this fall, with a look toward 2011.
Previously this week, we gave a grade to Chuck. Up now: No Ordinary Family.
Best Episode:  The winter finale "No Ordinary Sidekick" was the darkest episode to date, but also the most gripping, with The Watcher wreaking havoc all over the place, George's ego going hilariously haywire, Dr. King serving up some hard core nastiness, and even J.J. got a little sugar.  And that mind-freaking cliffhanger? Fuggedaboutit!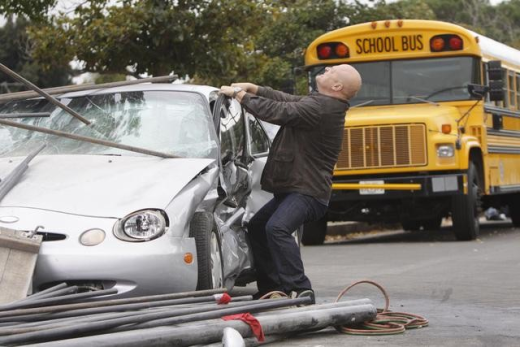 Worst Episode: The "Pilot" did a decent job of establishing the story, but every episode since has continuously built up a to creative stride in the last few outings. Plus, we weren't quite buying the disconnect between George and Steph the writers were not trying hard enough to sell us. 

Best Character

: This was a tough call. Every character has his/her strengths, but we just can't help falling in love with the hot nerd, Katie Andrews.  As the resident comic book expert, she's got a Kitty Pryde action figure on her desk, knows who President Roslin is and doesn't get how sexy that all makes her? We think we've found our kryptonite.

Worst Character: Ok, so J.J.'s math teacher, Mr. Litchfield, isn't a major player among this bunch, but while his disbelief in J.J.'s newfound brilliance is understandable, his accusations and attempted crucifying of J.J. rubbed us the wrong way.

Best Performance: Kay Panabaker plays the angsty-snarky teenager trying to fit in her own skin to the hilt, but we've also appreciated the more tender moments she's shared with Michael, Julie and Jimmy. Moreover, her terrifically terrified performance in "Sidekick" had us digging into the sofa cushion till our fingers bled.

Best Casting Against Type: When Stephen Collins is good, he's good.  But when he's bad, he's better! While we loved nice guy and loving father Eric Camden, we find the delightfully devilish Dr. King utterly bewitching. Our only complaint? Not nearly enough screen time.  We'd like to order additional helpings of the evil mastermind with an extra side of megalomania for good measure.

Best Slow-Mo Running Since Baywatch: Julie Benz is simply stunning at normal speed. Julie Benz running in slow-motion with her hair cascading behind her? We're calling for oxygen.

Bros Before Foes Award: Jim's powers may make him super, but it's his bromance with George that makes him a superhero. Whether building him "a lair... with wi-fi" or calling him out during playtime with Stephanie ("What's it gonna be man? Nookie or the Crookie?"), master-of-the-one-liner George really is "proof that every Batman needs his Robin."

Hopes for 2011: In addition to the aforementioned beefing up of Dr. King's role, we'd also like to see each member of the family discover a new offshoot ability, along with more Powell team-ups that involve everyone using his/her powers collectively to take down a baddie or two. 

Overall grade: B+

Jeffrey Kirkpatrick is a TV Fanatic Staff Writer. Follow him on Twitter.

Tags: No Ordinary Family, TV Fanatic Report Cards