I don't have to tell you what's at stake.
Castle's much anticipated two part story arc kicked off with "Setup," an episode that laid the groundwork for what will is sure to be one of the best of the season pay-offs of the season.
This show is no stranger to the extended story, having mesmerized viewers with last seasons' "Tick, Tick, Tick" and "Boom." As a loyal Castle fan from the beginning, these two episodes have marked my favorite to date. However, after watching this outing, there may be a new contender.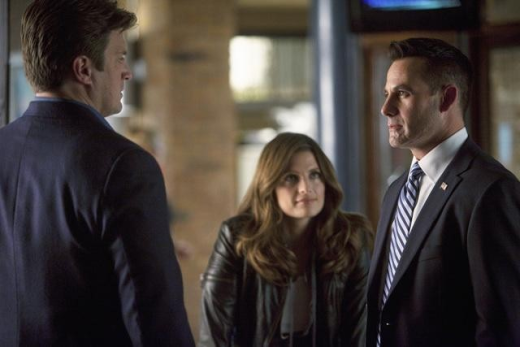 Adrian Pasdar debuted as Homeland Security Agent Mark Fallon. I was never Heroes viewer, but I do know that he was one of the highlights of the series. The guest star settled into this role comfortably and made quite the impression. So much so that there's even been talk of spinning the agent off.

The sensitive issue of a terrorist action in NYC was tackled and handled with class. The writers made a point to account for everyone's emotions, not just those required for the job. You could feel the nervousness and fear, both hidden under a calm presence. Kudos to the staff for giving viewers the ability to really feel this situation.

This show is mostly known for extravagant investigations that stray far from reality, which is often why it's so enjoyable. But every once in a while, it takes on a case that has the possibility of being real, hitting home for fans in an eerie manner.

A lot of action was packed into this hour: a stripped cab, money laundering, nuclear explosives, a shoot out. We were left with the cliffhanger of who is really behind the bomb: is it the Syrian brothers? McCann, the other driver? What will happen to Castle and Beckett locked in that room?

With all the twists and turns that kept me on the edge of my seat, the private moment between Beckett and Castle seemed secondary. We got a glimpse of Josh and found out he is headed out of the country. With both him and Gina gone, it looks like the path has been cleared a lot for romance.

So... as we we impatiently wait for the follow up next week, let us know what you thought. Is this two-parter living up to your expectations or do you prefer the more unrealistic arcs? Is Pasdar a good addition to the team?  Are you anxious to see what lied in the balance for our favorite detectives? Sound off now.

Tags: Castle, Reviews