Another week, another solid episode of Criminal Minds, which rarely disappoints even midway through its sixth season. Last night's installment couldn't match the intensity of the previous episode, "The Thirteenth Step," but it was strong nonetheless.
If nothing else, "Sense Memory" will give you pause the next time you get in a cab. For that you can thank another disturbingly, uniquely creepy UnSub. When you have that kind of knee-jerk reaction after an episode, Criminal Minds has done its job.
This week also gave us more insight into Emily's past, which we'll get to shortly.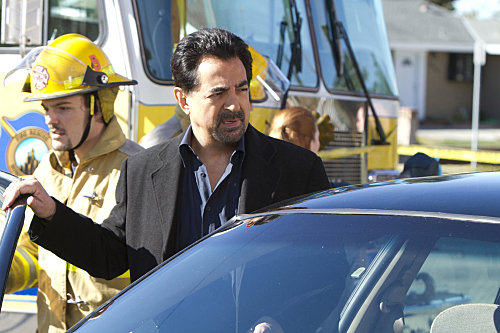 Even for the BAU, this murder pattern was unusual. Overweight women drowned and dumped across L.A., with small pieces of their feet removed. It's gross just writing about it.

After learning that they were killed by drowning in a highly toxic kind of alcohol, that leads us nowhere, shifting the focus to how the victims are found, caught, and disposed of.

The team employs the old standby - the news conference - after another potential victim goes missing, hoping someone had a run-in with this UnSub and lived to tell about it.

Preferably, to tell about it sooner rather than later.

The final clue was not one I saw coming. A woman comes forward to say she was picked up by the man's taxi cab, only to be abruptly sent packing after she put on perfume.

Smell. The catalyst for the killer's rage.

The flesh removed from his victims' feet were samples for the unhinged scientist, who used them to break down their scents, turning the essences into candles. So twisted.

Tracking the murderer to his garage, they save the abductee from becoming a victim at the last moment, and after a long chase scene in the car, the UnSub is no longer.

While not as riveting as last week, this was still a solid episode with an intriguing B-story as well, focused on Prentiss, who as we know is rumored to be exiting the show.

At the beginning, Emily arrives home and removes a work file from her safe - a job from the past. A strange open window and phone call have her obviously suspicious.

Later, she finds a box waiting by her door. She removes the file from her safe before proceeding to open the box, which contains a single flower and triggers a flashback.

Officials take Emily away. Ian Doyle is watching and she asks to speak to Sean. On the phone, Doyle says "they got her" and to "stay on top of this" as he is arrested.

Where do you think this will lead? Will A.J. Cook's return be tied in with the demise of Paget Brewster's character? We're anxious to hear your take on these developments.

What did you think of last night's Criminal Minds? Discuss!

Steve Marsi is the Managing Editor of TV Fanatic. Follow him on Google+ or email him here.

Tags: Criminal Minds, Reviews
Want more Criminal Minds?
Sign up for our daily newsletter and receive the latest tv news delivered to your inbox for free!
More From TV Fanatic
It's select ensemble vs. elite in a dance rematch this week on Dance Moms. Who came home with the victory? Read on to find out!
On tonight's Tyrant, Jamal and the Sheik meet for negotiations. Will they come to an agreement?
It was the start of the reunion show on The Real Housewives of New York City as the ladies took their places on the sofa next to Andy Cohen. We recap the bad dialogue and delusional drama in our +/- review.
Who can be trusted? On tonight's Covert Affairs, it's clear that it's important to trust others, but also a huge gamble.
---