Welcome back to the weekly TVF Gossip Girl Round Table, where our panel breaks down the previous night's episode (see our review from earlier this morning).
Below, lead Gossip Girl writer Mister Meester joins esteemed editor-in-chief DANdy and TV Fanatic CEO Gossip Guy to discuss "It-Girl Happened One Night" ...
~~~~~~~~~~~~~~~~~~~~~~~~~~~
1. What was your favorite Gossip Girl quote from last night?

Gossip Guy: I'll give an honorary and rare gift to the Captain after the poor guy lost his job with, "Wall Street didn't need a sequel. In theaters, or in my life." Long live Gordon Gecko's legacy.
Mister Meester: I loved Dan asking what Blair did to Epperly, with a hint of concern that B had her whacked, and her response, which didn't dispel that notion. I also liked this one from Gossip Girl: "Roses are red, hydrangeas are blue. Chuck's given his heart away ... But guess what, Blair? Not to you." Seriously? What does that even mean? Kristen Bell is phoning it in these days.
DANdy: Blair: [to Serena] "It's okay to date below the line. Madonna and Julia Roberts paved the way for girls like you." Burn.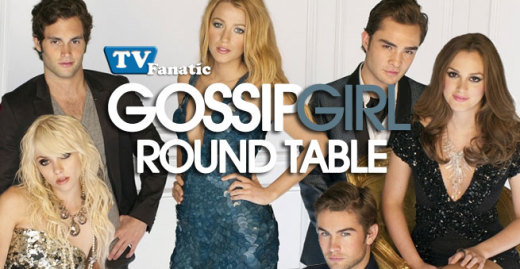 2. Harder to believe, felon edition: Nate's dad stealing those passwords, or Ben assuming Serena would think less of his catering gig when she dated a guy with that same gig, and after Ben just got out of PRISON?

Gossip Guy: Oh this is even more fun than the Felon edition of Trivial Pursuit! Going forward, I'm giving the entire Ben storyline the "harder to believe" title every week.
Mister Meester: The Captain. Thorpe would change the passwords instantly, and would just nix his access electronically rather than requiring the physical card (which he'd probably notice the name of a gym on). Unless this is just a plan to trap Chuck trying to hack the system. Damn, Russell. Always a step ahead. Begrudging respect.
DANdy: Ben. Serena dated a guy from Brooklyn, remember. Brooklyn.
3. Which character would you most like to see a W magazine feature on?
Gossip Guy: Vanessa. Hah! Got you. No, seriously, I would have totally gone for that Serena one. Maybe a nude photo shoot in the vein of Kim? Yum.
Mister Meester: Blair! All I could think of while she helped coordinate the "It-Girl" feature was that the best candidate was working right there at W.
DANdy: Jenny. Wonder what she's been up to in Hudson.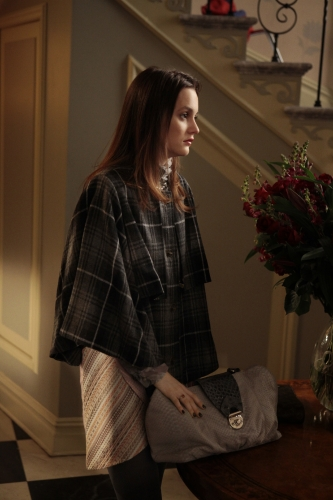 IT GIRL: How come W didn't just suggest Blair?


4. Rate this week from 1-10 on the Rufus Uselessness Scale.


Gossip Guy: Wait, Rufus was in this episode? I thought that was just a really big purse on Lily's arm. 10.

Mister Meester: 9. His role was basically one scene in a sweater at breakfast with minimal dialogue. That's tough to top, even for the new Vanessa.

DANdy: 8. He's one spinoff pilot and ascot away from becoming a founding member of the cast of The Real House Husbands of the Upper East Side.

5: Will Dan and Blair hook up next week?


Gossip Guy: Maybe not next week, but I have a feeling it's happening. I don't want to give away too much, but we obtained this exclusive photo.

Mister Meester: Not so sure about next week. Blair has too much going on, if you haven't noticed. I feel a Dair cliffhanger coming February 28.

DANdy: I see what you're doing, Round Table question writer. But I don't have any spoilers of my own, so just click on my colleagues' links.

6: What is Damien's plan?


Gossip Guy: Hopefully wear more skull caps. It was a good look for the man.

Mister Meester: He's upset that his dad's got him under a microscope, right? That can only mean revenge against Ben, the reason for that scrutiny.

DANdy: Probably unlimited calling, text messaging and data on his iPhone. The man lives on his phone dealing drugs for a living. It makes sense.

What do you think? Sound off in the comments!

Steve Marsi is the Managing Editor of TV Fanatic. Follow him on Google+ or email him here.

Tags: Gossip Girl, Round Tables