Hawaii Five-O Review: "Powa Maka Moana"
at . Comments
After last week's dull installment of Hawaii Five-O, the series returned with an intense Valentine's Day gift: "Powa Maka Moana."
Despite having a good idea that Nick Lachey's character, Tyler, and his rescued girlfriend, Susan, were going to turn out to be the villains, I was still grew immersed in the story, feeling a the sense of urgency that the Five-O had to find the kidnapped college students.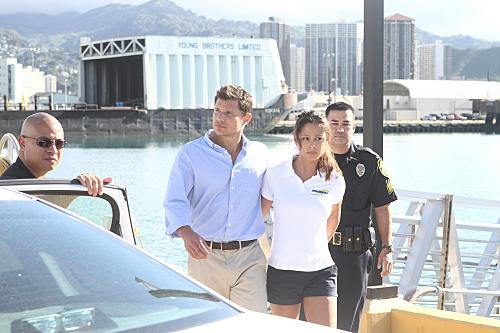 Surprises cropped up at every turn, and with only a few minutes remaining, I almost thought this was going to become a two-parter. Of course, I under-estimated McGarrett's cleverness at being able to read clues. The slip-up made by Tyler, when he used Susan's name, had a nice pay-off. It was reminiscent of the sort of hint one might find in an Agatha Christie novel.

Poor Danno is going to end up having an aneurysm one of these episodes, considering the way McGarrett often handles situations like the scene in the pawn shop.

Danno is always aware that McGarrett is going to do something crazy, but not knowing exactly what the insane stunt is going to be must be taxing. After McGarrett blew the security door at the pawn shop open with a grenade, I probably would have been yelling for McGarrett to seek psychiatric help, as well.

My one beef: when Danno and McGarrett sought information from Kamekona as he was jogging. While this scene offered a nice chance for comedic exchanges, the banter did not impress the severity of the situation.

I would be all for see Kamekona fight Danno in a sumo match, though.

Finally, Kono keeps getting more and more impressive stunts to pull off. It's refreshing to see the action evenly distributed among the cast. Even though McGarrett is the Superman of the group, having each of the Five-O kick some ass shows the overall strength of the team. It's not just one man holding things together, but the collective that makes the Five-O such a force to be reckoned with.

Tags: Hawaii Five-0, Reviews