If you read my column this week, you are well aware of my feelings about the way the story of the Powell family is progressing, and of "No Ordinary Powell" in particular. It landed its punches left and right, with mostly successful results.
As the old saying goes, the devil is in the details, and Victoria certainly was all over them this week. She practically salivated every time she learned something new, from discovering that JJ and Daphne have some impressive powers of their own to news of the lipstick that would render Jim impotent. In a way, she reminded me of that girl in high school who viciously feasted on rumors and secrets, ever eager to use them at some point to gain an advantage.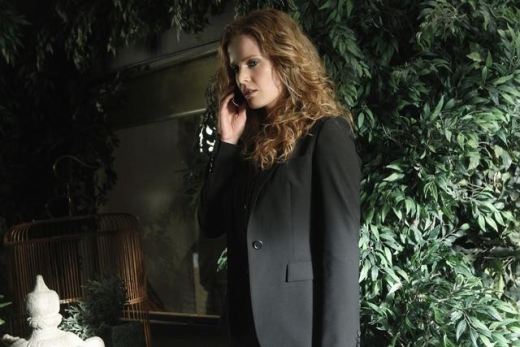 She did manage to have the upper hand throughout the episode, although I laughed at the look on her face - well, George's face - when she shot Jim and it merely irritated him.
I knew at some point Jim's allergy to cinoxate would come back to haunt him again. During his altercation with Victoria, I had echoes of Wolverine vs. Mystique/Wolverine from the first X-Men saga swirling through my brain, but couldn't help but think that if she really wanted to fight Jim in a body that would best him, wouldn't it be more believable for her to take the shape of a pro wrestler or something? Then I laughed and remembered I was talking about a series where a scrawny freshman was able to use geometry to suddenly throw a winning touchdown pass. 
In any case, it was good fun seeing Michael Chiklis battle Michael Chiklis in a living room cage match, despite the fact that the opening segment with Stephanie crying over Jim's lifeless body was a completely useless, weak attempt at a mislead. Who would possibly think they'd actually kill off the patriarch or fail to determine within mere seconds that it was really the previously revealed shape-shifter bleeding from the head? 
That was my only real beef with this episode. I'm willing to suspend disbelief, but I'm not an idiot.
Nevertheless, I was disappointed to see them off Victoria so quickly.  Rebecca Mader made for a perfectly wicked Victoria; she's been my favorite super-villain so far and I think she had a good deal of untapped potential yet to be revealed - especially after learning that Dr. King is her adoptive father.  On the plus side, though, we won't likely be making any further trips to the doppelganger well, so at least it will require more creativity and surprises moving forward.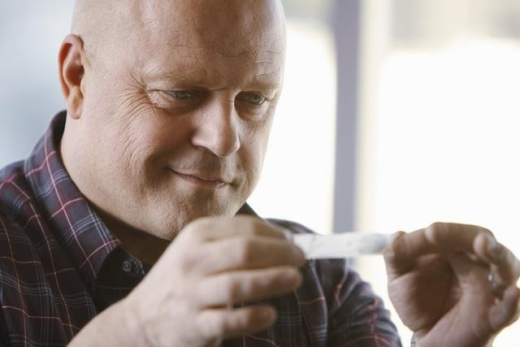 Thanks to our dearly departed doubler, we learned that King is harboring something of a bunsen burner flame for Stephanie.  That bit of intel came in very handy in the end, when Stephanie needed to convince King that she was Victoria long enough to recommend he bring Stephanie on the inside of whatever grand scheme he's involved himself. I rather think George called it when he said "Stephanie's got a taste of the crime-fighting bug and me think she likey."

Now that Stephanie is essentially a double agent, I'm even more anxious to see how she manages to stay under King's radar and find out exactly who the mastermind is behind it all.  More importantly, how are they going to keep him from finding out Victoria is dead?  They can't shift shape, and it remains to be seen if their powers are effective on King, so it's yet unknown if Daphne could manage to influence his thoughts.

Speaking of Daphne, I was thankful to finally see she and J.J. working on something outside of school, using their combined abilities to solve an actual crime.  I was a little disappointed that Daphne wasn't able to influence their way out of the situation, but I suppose this being their first real foray into crime fighting that fear got the best of her and she couldn't think to do much other than to call Jim for help.

It did, though, give us a cool shot of Jim tearing a garage door off a house like it was paper.  I sort of feel bad that J.J. really doesn't have a power with which to defend himself, but it is interesting that because of his increased brain power he can't be influenced long term by Daphne's new ability.  I wonder if that goes the same for Joshua.

There wasn't a lot of movement with Joshua and Katie, aside from her managing to get Stephanie to help him with his withdrawal from King's serum.  I particularly liked how she referred to Katie as family, and her very believable threat to Joshua that he'll have her to contend with if he hurts Katie.  I wonder just how far she'll go once she finds out he wiped not only Katie's memory, but her daughter's, as well.

Not only do I believe this was the most entertaining hour to date, but the actors are settling more comfortably into their parts and delivering solid performances week after week. No Ordinary Family is finally firing on all cylinders; now if we can just do something about those pesky ratings.

Jeffrey Kirkpatrick is a TV Fanatic Staff Writer. Follow him on Twitter.

Tags: No Ordinary Family, Reviews