Guess this is my lucky day. - Julian Baker

If you like One Tree Hill, you loved "The Other Half of Me."  This week's installment took me back to the days when this show could so easily pull at the heart strings of its audience, and made me forget any negative things I have had to say about the series in the recent past.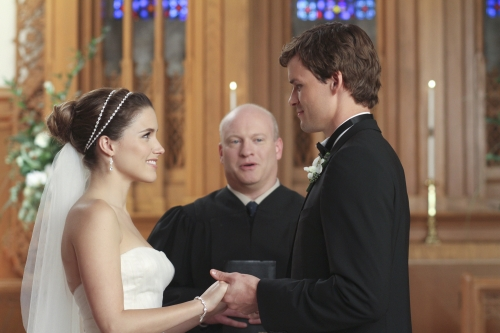 In our most recent edition of the Chuck Round Table, I was asked if I teared up during the final scene of the episode.  My answer was no, but that I was never afraid to reveal when I get a bit too emotional watching fictional characters. 
Which brings me to my main argument for why this week's One Tree Hill was such a fantastic episode: There were two - count 'em, two! - moments in "The Other Half of Me" when it got extremely dusty in my living room.
You had to know this was going to be epic when they opened with young Brooke Davis catching a veil outside her house with the red door.  It set the emotional tone for the entire hour.
Let us cut ahead to the first time that the dust started to kick up into the eyes of television watchers everywhere.  As Brooke walked down the aisle to marry the man she loves, we witnessed the most glorious flashback montage I've seen in a long while.  Watching all of the moments that Brooke and Julian have been through since Austin Nichols first became a recurring star on
One Tree Hill
, interwoven with Sophia Bush smiling ear to ear as she prepared to rattle off her lovely vows, was nothing short of beautiful.
I'm not going to lie. The dust must have gotten worse at my place, or maybe my allergies started to act up, because I was starting to water optically when James Lucas Scott gave his best man speech. 
I think Haley was absolutely correct when she said to Jamie, "I have heard a lot of best man speeches in my life, and yours was by far the sweetest, most honest, and the most memorable."  Now, I haven't heard a lot of real best man speeches, but I've heard a lot on TV and in the movies, and this one - performed so eloquently by Jackson Brundage - ranks near the top. 
I have to give the young actor credit. I have given him some grief the past couple seasons for being more annoying than cute. With that speech, so poised and with such great delivery, he made up for everything. Fantastic job.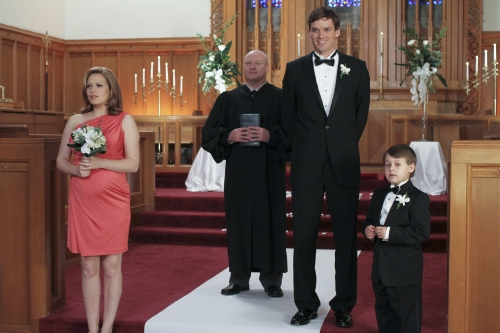 It wasn't just those two highly emotional moments that worked so well.  There was plenty more to rave about.  The Jamie/Julian dynamic was fantastic as always, but the Jamie/Haley moments were also solid. A rivalry between the best man's and maid of honor's speeches is cute and funny to begin with, but when that rivalry is between a mother and her little boy, it's genius. 

Haley's speech about her friendship was very sweet, but it couldn't compare to Jamie's.  When they had their moment at the end of the episode in which Haley mentions to Jamie that she's having a girl, Jamie's "I hope she's just like you, Mom" almost cuted me to death.

"The Other Half of Me" was focusing on the dramatics of the Tree Hill gang, but it didn't skimp on the comedy.  And this was the type of comedy that works well on this show. A corny joke by Julian that got big laughs the first two times he told it got immediately shot down by Nathan, who told him "two out of three's pretty solid." 

There were also plenty of shots of Brooke dancing like Molly Ringwold, Alex not being able to keep a secret for more than an hour, Skills way overplaying the role of usher at the wedding, and even Millie bringing the physical comedy as she laid out for the bouquet.  These were all moments that didn't overwhelm the storylines, but gave us a reason to chuckle in between our tears of joy.

So Julian and Brooke Baker are off to enjoy each other as man and wife in their limo... oh, wait, Chase and Mia took that to have slutty wedding sex. Make that in their truck.  What will happen next in Tree Hill, N.C. and can they top what we just witnessed in this week's episode?

Dan Forcella is a TV Fanatic Staff Writer. Follow him on Twitter.

Tags: One Tree Hill, Reviews