In last night's Private Practice, "Two Steps Back," Violet returned with a manuscript full of other people's issues, which placed her directly in front of the firing squad.
Sheldon dealt with a patient feigning multiple personality disorder to keep her sister close, while Cooper and Charlotte worked through the past to move towards the future. This episode also marked Naomi's transition out of the series, ending with an explosive kiss.
The lucky man on receiving end of that kiss?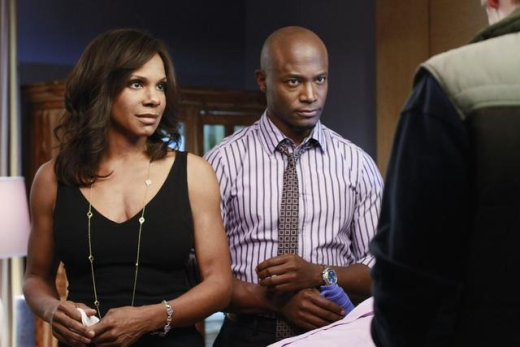 Sam and Naomi have a long history together. While I don't condone cheating, I wasn't agitated by this kiss. We all saw it coming; and when it did finally happened, I didn't bat an eyelash. Everyone here is already aware of my feelings on Addison Montgomery.

And as I stated before, I don't condone cheating. But this is Sam and Naomi. I would have felt the same way were Dylan to kiss Brenda while he and Kelly were dating. 

Violet has come back with a manuscript full of venom, and... yes, her co-workers did read it.

For a woman so eager to hear feedback, she was certainly surprised to see that everyone was pissed at her. Cooper couldn't get over the fact that Violet call him a "manchild" more than once (once is bad enough).

"Manchild?" he asked Violet in her office. "Ok yes, Maybe I did call you that," she admitted. "Once. Maybe twice."

Pete read it, and was none too pleased that Violet discussed his first marriage AND his crazy mother. When Violet told him she sold out lots of other people and they didn't seem to mind (or so she thought), he told her, "I don't care what anyone else thinks. I hate your book, Violet!"

The banter between Violet, Sheldon and Amelia wasn't any better. "I know this is totally uncool of me to ask, but have either of you read my manuscript?" Violet asked. "The one where you basically called me a whore?" confirmed a jovial Ameila. "Yeah, I read it." 

Violet gave her friends a choice: If they didn't want their stories out there, they could veto her book and she'd call the publishers. In the end, those friends gave Violet her voice back. Pete arrived home to deliver the news, to which Violet suggested, "You want to fool around with a soon-to-be-famou/best-selling author?"

Charlotte and Cooper attended therapy together in order to move forward in their relationship. Charlotte hadn't worn her engagement ring since she was raped because it's a reminder of what happened. Cooper had it fixed and polished, but it took awhile for Charlotte to start wearing the (blindingly brilliant) ring again. Tah dah! She was sporting it shortly after their session.

Then came the rain. During a "let's tell secrets" therapy session, Cooper admitted to kissing Amelia. "I... kissed Amelia," he admitted.  "When," asked Charlotte. "After you were raped." Charlotte confronted Amelia about the incident, and Amelia just stood there like an idiot.

We were all there! We saw Amelia refuse Cooper's kiss. Why didn't she tell Charlotte that?

Sam and Naomi had to deal with Tanya, their pregnant Down Syndrome patient. Her mother told Sam she walked in on Tanya having sex with her boyfriend Ricky one day.

Tanya had been complaining of stomach problems and, lookie there, she was pregnant. "What's in my belly?" she asked Sam.  Almost every episode of Private Practice deals with one controversial topic. This was last night's. Tanya's mother wanted to abort the pregnancy because it was difficult enough raising Tanya without a newborn in the picture, even if this baby turned to be clear of any medical problems.

Naomi was adamant about Tanya not having an abortion, while Sam felt it was important to let Tanya's mother make the decision on her own.

Before Naomi had a chance to read the results of a genetic test proving the baby was healthy, Tanya's mother had already brought her to have an abortion.

Whether it was that or the fact that Mya might be accepted to Columbia, Naomi allowed her judgment to cloud over just long enough to kiss Sam. And you know what? I didn't hate it.

Did you love Sam and Naomi's kiss? Hate it? Discuss this development and all things Private Practice with us by leaving a comment below!

Tags: Private Practice, Reviews
Want more Private Practice?
Sign up for our daily newsletter and receive the latest tv news delivered to your inbox for free!
More From TV Fanatic
This week on The Last Ship, Danny gets sick and the crew begins to panic. Is it the virus? Meanwhile, Rachel's vaccine trials continue to fail.
Who was able to successfully problem solve on The Rachael Ray Show this week? Find out now in our review of Food Network Star.
The Masons are reunited on Falling Skies Season 4 Episode 6. Will it be a happy or contentious reunion?
What took place on The Real Housewives of New Jersey Review this week? Read our rundown to find out!
---