Talk about an episode of The Vampire Diaries with a lot of heart.
Or hearts, I should say. Torn out of the chests of werewolves. Many, many hearts were torn out of the chests of werewolves.
But, aside from violent deaths, "Crying Wolf" crammed a great deal into one hour,  from a life-altering decision by Tyler to numerous planted seeds that will grow as the season progresses. Into what? That's the question. So let's try to answer it by unpacking the busiest installment in recent memory.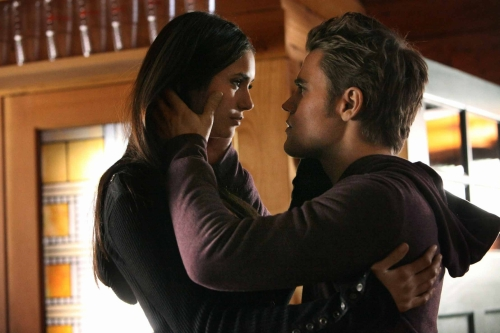 Werewolf Domination vs. Werewolf Armageddon. Stevie laid out the issue of the moonstone rather well for Tyler. I know I'm supposed to hate these wolves, but I find myself understanding their point of view. Let's face it: most vampires are NOT like Stefan, or Damon when he's in a sensitive mood. These wolves have been feuding with their rival species for centuries, so it's hard to blame them for wanting to get the upper hand here.

That said, I pumped my fist and chest-bumped my wife each time Elijah sent a wolf to the Great Big Jungle in the Sky. I don't want them to win, I just appreciate a well-layered villain.

"Elena has to die

." Luka made the stakes as clear as can be in his hypnotized state, and this is a major reason why I love

The Vampire Diaries

. It doesn't just toss out questions that don't get answered for weeks, if at all. It continues to shock us with twists and turns and reveals that up the ante every Thursday night.

The challenging question now: what do the core characters do about Elijah? They clearly need him in their battle against the werewolves, as he proved once again by coming to Damon's rescue. How jarring was it, by the way, to see this Salvatore brother dominated so physically? (No, not in that way, ladies!)

Jonnie. Oh, it's on. Are you on board?

Another supernatural sibling. Let the guessing games begin. Who should play Luka's sister? Perhaps Keke Palmer?

The foreboding future. Consider all the groundwork this week that was laid out for the rest of season two: Jenna now has suspicions about Alaric. Can she remain in the dark about all the happenings in Mystic Falls forever?

Elena's parents were hunters, and I somehow doubt their game was venison or wild boar. What might those journals reveal? How might those weapons come into play? What about her mom and dad will Elena discover next? (Nice reminder of them via the cabin, by the way. It's easy to forget the pain and suffering Elena went through prior to meeting Stefan.)

And, most pressing of all: the turn. Stefan and Elena touched on their future for the first time this week, referring to it as a "box" that Elena wasn't ready to open. Stefan later found out why, of course. Does she really have a future? Assuming the answer is yes, and Klaus doesn't get to make his sacrifice, Stefan and Elena are headed toward the question that plagues all vampires and their human partners: To turn or not to turn?

All this, and we haven't even touched on the road trip Tyler is taking with Jules. When will we see him next? How else might she mold her friend's nephew into a vampire hater? We'll get to this topic in this week's Round Table, but let's turn this review over to the readers: WHAT DID YOU THINK?

Matt Richenthal is the Editor in Chief of TV Fanatic. Follow him on Twitter and on Google+.

Tags: The Vampire Diaries, Reviews
Want more The Vampire Diaries?
Sign up for our daily newsletter and receive the latest tv news delivered to your inbox for free!
More From TV Fanatic
Join us for the rewatch of One Tree Hill Season 1 Episode 3. Ready to rundown this fun installment?
This week on The Last Ship, Danny gets sick and the crew begins to panic. Is it the virus? Meanwhile, Rachel's vaccine trials continue to fail.
Who was able to successfully problem solve on The Rachael Ray Show this week? Find out now in our review of Food Network Star.
The Masons are reunited on Falling Skies Season 4 Episode 6. Will it be a happy or contentious reunion?
---