Top Chef Review: Elmo Like Eating...
by Kate Moon at .
What a strange episode of Top Chef. The first half was akin to an alternate reality where Muppets get to demand cookies and judge the contestants, while the second half took the All-Stars to a mysterious land called Target where gourmet food doesn't really exist. 
Let's break it down.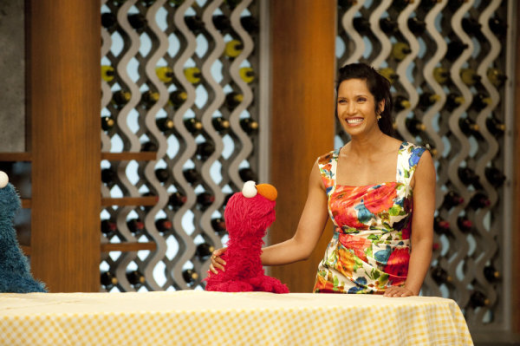 Quickfire Challenge
When Padma starts to rhyme really awkwardly, you just know something's up. And lo and behold, Muppets pop out behind the tables! Specifically Elmo, Cookie Monster, and Telly, to hysterical laughter of the chefs. The challenge is pretty simple: COOKIE COOKIE COOKIE! The prize  A cool 5k... nd the title of Best Cookie from Cookie Monster himself! 

I heard that Cookie Monster recently became Vegetable Monster... but he was back in full force on Top Chef, demanding his desert. 

Apparently Mike has never baked cookies before and Angelo hasn't made a cookie in 25 years. It's interesting how a deceptively simple challenge can throw off such talented chefs. Meanwhile, the Muppets offer some tips on how to make the best cookies... in Muppet language, confusing Dale.

The cookies look universally delicious to me, and the Muppets seem duly impressed; they're not too keen on Richard's ice cream cookie, though, on the grounds that it's not really a cookie. And despite Angelo's delicious looking shake, his cookie is pronounced "dry."  Dale wins with his Pretzel, Shortbread, Potato Chip Cookie with Salted Caramel Chocolate Ganache. Sounds a little sophisticated for Muppets, but hey, they love it!

Although it's awesomely fun to have Muppets around, the chefs are then whisked away to Target because Target is the product placement company du jour.

Elimination Challenge
The prize riding on the challenge is $25,000, courtesy of this chain.  While that's awesome for the winner, I feel like many more worthy challenges deserve that insanely generous prize money. Without a proper kitchen and not even a real fire, how good can the food be?

The biggest challenge is that the chefs must find everything and anything; not just their normal ingredients, but utensils, tables, cutting boards, replacement fire. Three hours in the late night isn't going to bring out the best flavors.

Nevertheless, everyone manages to pull out some great looking food for 100 Target employees. A lot of the chefs attempted soup, some more successful than others; Antonia's eggs were a clever idea, given that eggs can be cooked more easily than other proteins, and Richard even makes pork. 

Judges Table
The judges liked Dale, Antonia, and Richard the best. Dale was clever: he made a toasty grilled cheese panini with an iron press, not the most complex of dishes, but the tools of the trade is easy to find at Target. He wins that 25K. It's hard to feel impressed or happy for Dale when he wins that much money for just making grilled cheese and tomato soup.

Mike Isabella escapes being the bottom three by a squeaker and, in another shocker, Angelo - one of the strongest in the bunch - is sent home for his salty soup. He really should've gone further than than Top 7. Tiffany and Mike haven't won any challenges yet!

It's down to the Top 6. Do you agree with the elimination?  Who will go home next?



Tags: Top Chef, Reviews
From Around the Web