"Stage Two" was the first half of a dark, two-part episode of Archer, already a dark show by any measure. How did the TV Fanatic staff feel about this installment?
We break it down here in our weekly Archer Round Table Q&A:
What was your favorite Archer quote from last night?  
Jeff F: Cheryl: Archer: "Hey, how you doin'? I beat cancer."
Mark F: Malory: "If I ever cared about what you did over the weekend I would stick a double barrel shotgun in my mouth and pull the trigger with my toes."
Eric H: Archer: "Don't apologize to me, apologize to the Brazilian Rosewood."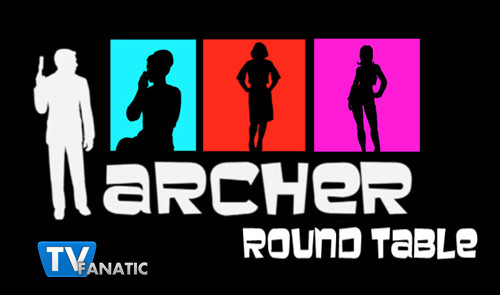 Cancer: too dark for an animated comedy?


Jeff F: Should have gone straight for the testicular cancer and treated it as if it were breast cancer. There needs to be more awareness.

Mark F: No... who else is going to tackle it. I don't even think Daniel Tosh has done cancer jokes.

Eric H: As I said in my review, at first viewing I wasn't a fan. But after seeing the two parts together, I feel it was an amazing gamble that paid off.

Worst thing Archer did using his cancer as an excuse: stealing Woohouse's Vegas trip, getting Cyril thrown in jail, tricking Lana into bed, or tattooing the Wee Baby Seamus?

Jeff F: The Wee Baby Seamus' tattoo. "We've got each other's backs."

Mark F: Stealing Woodhouse's Vegas trip... that's just kind of dick move in general. The rest... eh.

Eric H: Agreeing with Mark on the Vegas Trip. Did you see how much fun it looked like he was having with Dicky in that montage!? I assume that's what Dr. Toboggan is busy doing and why he couldn't participate this week.

Creepier: hybrid pig-boy or goat-boy?


Jeff F: A what!? We all know why pig-boy and goat-boy didn't work. Clearly eye of newt was not used in their creation.

Mark F: Piggley. Plus, it'd probably steal Pam's amorphous blob thunder. 

Eric H: Pigly. We've seen half goats thrown in everything from Greek Mythology to Jim Breuer's legendary Goat Boy on SNL.


Doing anything fun this weekend?


Jeff F: I will be looking for left over green beer on the cheap and punching some cards.

Mark F: Recovering from St. Paddy's Day... I still can't sit up, hence the short answers this week... need to lay back down ASAP.

Eric H: Definitely too hungover to play in my cornhole league this weak. Probably just gonna wallow in my hangover while watching a building burn down.

Eric Hochberger is the programmer of TV Fanatic, so please forgive his mediocre writing. His programming is far better. Follow him on Twitter and/or email him. Just don't request threaded comments. They're coming.

Tags: Archer, Round Tables