Castle continued its steady roll of enjoyable and entertaining installment with "Law & Murder."
The hour revolved around a poisoned juror on a high profile murder case that provided the usual and anticipated twists and turns. Sometimes, these can be overwhelming, but the murder here played out pretty smoothly.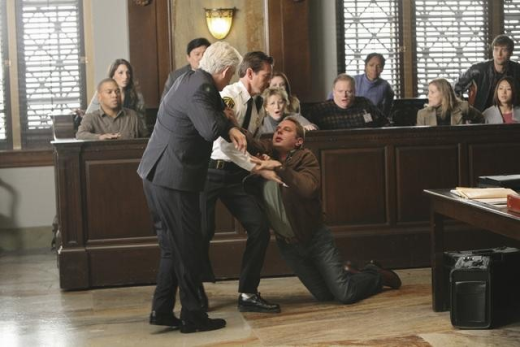 As entertaining as the case was, having some outside stories could have helped the episode a bit. 
Delivering some personal arcs to the secondary characters would really add another layer to this hit show. We know Castle and Beckett; let us get to know Esposito, Ryan, and even Lanie.
Case in point: the tease of Esplanie. They are this hot new couple.... so let us actually see them interacting. Ryan is super sweet, give him some screen time with his new fiance. Don't get me wrong, I still want my Caskett front and center, but I wouldn't be disappointed to see the others get some action.
Just last week I mentioned how badly Alexis is in need of her own arc. What do you know? We finally got it, sort of. Castle used his GPS app to track down a lying Alexis in Williamsburg. I was trying to take a guess in my notes: secret boyfriend? Pregnant? Drugs? Anything exciting? Turns out I was wrong.
Alexis had reported back to the scene of her friends' crime of shoplifting to pay for stolen clothes. This was a step in the right direction of character development, just not a full step forward.
Some other thoughts...
Loved that Castle's background of his phone is his own book cover.
How awesome was Castle trying to get Alexis and Martha to go see Forbidden Planet with him?
Even more awesome? Beckett wanting to see the same movie. Can you say date night?
What did you think, TV Fanatics? Was "Law & Murder" up to Castle standards? Sound off now.

Tags: Castle, Reviews
Want more Castle?
Sign up for our daily newsletter and receive the latest tv news delivered to your inbox for free!
More From TV Fanatic
Usually it's insults that get tossed around on The Real Housewives of New York City Season 6 Episode 20 but Aviva threw out a leg. Her own! On the dinner table. We attempt to make sense of the nonsense in our +/- review.
On Perception, Daniel and Kate try to track down a missing baby. Kate also must deal with Donnie's talks about their own future children.
Aria finds some interesting clues as she begins volunteering at Radley while Hanna continues to struggle with Alison's return.
With Maura away, Jane must rely on Susie's help to solve the perfect murder on Rizzoli & Isles.
---