In what seemed like forever since the explosive kiss between Sam and Naomi, Private Practice returned last night with storylines that suggested there isn't always a fine line between what's right or wrong – especially when you're dealing with "Love and Lies."
At first, I hadn't decided whether I was on Team Naomi or Team Addison.
When Sam and Naomi were caught by Gabriel in hushed tones, my mind was clearly made up. I realized Sam could go easily from being head over heels for Addison just a moment ago and then back to thinking nostalgia deserved a chance.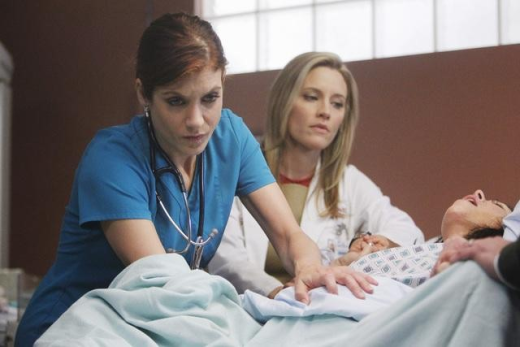 I get that Sam and Naomi have their history – Naomi did remind us with her "milestones" - but cheating is still cheating.

Meanwhile, it was nice to see Gabriel back, ready to woo Nae, turning our love triangle into a square. I was rooting for Gabriel before William, and had always wanted to see him get a shot with Nae. I am glad, though, that Nae didn't choose him in the end, realizing what's in the past is there for a reason.

Grief played a huge role this week when the married couple desperately wanted to harvest the eggs of their unborn and ill-fated baby.

Putting our doctors at odds with one another yet again, this case gave Addison the chance to show the parents how to deal with grief while she was able to deal with her own in losing Bizzy.

Although we didn't get to see Addison deal with Sam's mistake, I'm hoping that they'll be able to bounce back rather quickly next week without too much drama.

By the way, how great was Cooper in this episode?!

My heart nearly dropped when the parents didn't want to meet their baby, and Cooper told Addison: "Can't tell you she looks just like all the other preemies I wonder what she would have grown up to be." I know it couldn't possibly be happening anytime soon for Cooper and Charlotte, but I think Cooper would make an awesome dad.

Elsewhere, I could relate to Amelia's storyline – not specifically with the hiding of test results and having a friend threaten suicide, but who hasn't wanted to bend the truth and lie for the well-being of a friend?

Although I am more of a cookies and cream (versus Rocky Road) kind of a girl, I, too, think that swimming in the ocean and driving with the top down on a sunny day are reasons to not give up on life.

Maybe Sheldon will finally get a girlfriend and some drama of his own since he has finally expressed his tiredness of being the "not boyfriend-boyfriend."

And I absolutely loved when Naomi brought to light the recent sticky situations when some of our Oceanside doctors paid off a pregnant junkie, lied about a mother's blindness, and Sam considered killing a patient – just more examples of how Private Practice knows how to depict controversial medical storylines in every episode.

I did wonder why they didn't try harder to help the pregnant junkie, seek additional help for the blind mother, and the list goes on...

What did you think of last night's Private Practice? Discuss!

Tags: Private Practice, Reviews