The theme of this week's Shameless is redemption. Can Frank find forgiveness from Eddie, Sheila, and Lip? Can Steve make up for accidentally landing Fiona's brothers in jail? In "Father Frank, Full of Grace," the sh*t hits the fan as we get the answers to all of the drama this season's been leading up to.
I haven't decided if I think Tony is a good guy or a bad guy. I think inherently he is good, realizing he made a mistake and doing anything he can to fix it, even if it means giving up an entire season of Bears tickets.
On the other hand, he let Steve believe that the charges against the boys still hadn't been dropped, leading Steve to hand over the title to his house. I understand Tony hates him, but he took it a bit too far, from last week's beating to driving Steve out of town simply so Fiona will be single again.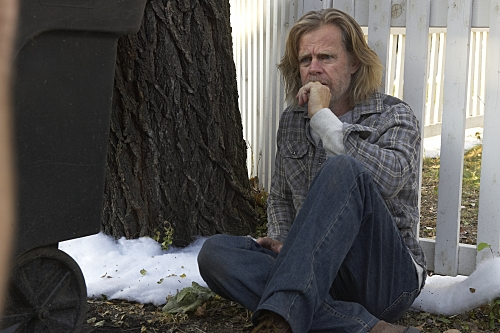 No matter how much I think virgin-clinger Tony had some nutty tendencies, compared to Karen he's a piece of cake. My goodness, why isn't this girl in therapy?

Her daddy issues will be a lot more intense next season when she finds out her father offed himself. When I first saw Eddie at the ice fishing hole with his chainsaw, I thought he was prepping a grave for Frank with a move out of a scene in

Four Brothers

. Instead. he went all A.J. Soprano on us with the cinder-block suicide move.

I was absolutely not expecting that twist and am still not sure how I feel about it. It was an extremely morbid way to end a storyline.

I've mentioned before my adoration for Lip and this episode just confirmed what I've been saying for weeks. I adore him and the way he silently made up with Karen, accidentally slipping the "I love you" out during what looked like passionate sex.

I was moved by Karen's tears because it was such a raw moment where you saw just how much this girl was emotionally damaged. Frank trying to justify his attraction to underage girls, by spouting off about the oversexed kids on Hannah Montana and Glee, was both humorous and creepy. I'm sure the Parents Television Council will have a field day with that!

As much as I wanted Fiona to get on the damn train and meet Steve at the airport, I knew deep down that she couldn't do it. Whether it's the way Debbie held Fiona's hand at the hospital, Fiona's reaction to Ian coming out to her, or Ian's comfort of Lip when he is first scorned by Karen, these kids take the family bond to another level. There's no way Fiona could have left the Gallaghers, but I'm still sad she lost out on love.

Oh well, there's always next season!

Leigh Raines is a TV Fanatic Staff Writer. Follow her on Twitter.

Tags: Shameless, Reviews