From Switzerland to Monaco, Archer has really gone on some impressive spy adventures this season.  But in the spy world, there's really only one Mother Russia.  So you can expect some real goodies for our Archer Round Table when Archer and Barry head there during "White Nights."
This week, our esteemed panelist Mark F. was busy getting his own Dicky tattoo in Vegas, so we brought in guest panelist Rickey.  So go ahead, smash some glass on the ground because it's "Happy Play Time!"
What was your favorite Archer quote from last night?  
Dr. Toboggan: "Ray, get your purse and take some Midol because your going back for him."
Rickey T:  Kinda wish I had taken my training more seriously," Then He got really serious,  Its rare for him ,  Its funny how when under mass stress, or the threat of nipple shocks he receives clarity in his thinking,  Archer shows a hidden side, a reluctant caring individual focused on reality, truth and preserving his nipples. Sensitive human being or nipple preservationist?
Eric H: "Why are you wearing silk socks?"  "Is that a joke?"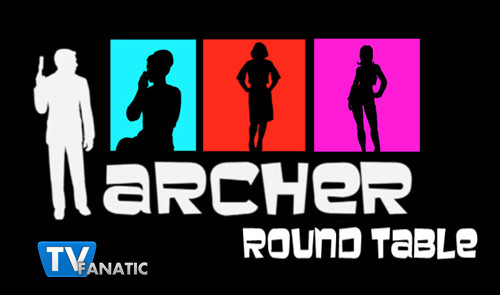 Favorite joke at Russia's expense?


Dr. Toboggan: "Happy play time." That Russian children's only source of entertainment is playing with broken vodka bottles. Or possibly Archer scolding the Russian woman for hearing gunfire and deciding to take out the trash......oh groceries, nevermind.

Rickey T: The economic situation is Russia is summed up in Archers statement about the old man's shoes,  In America, Archer has it all and he has become accustom to having name brand, top shelf, High dollar hookers, turtle necks and booze,  To see Archer make light of those shoes under the threat of death is the perfect oxymoron.  Go ahead and shoot me, just use the Gold-plated Bullet.

Eric H: Definitely the loafers.

Obviously loafers go great with a turtleneck, but thoughts on loafers with a casual suit?


Dr. Toboggan: I guess when an inconsiderate spy steals your silk socks you have to go with what's available.

Rickey T: Only under special circumstances. Woodhouse would get a severe tongue lashing to allow Archer to leave the penthouse with that combination.  It may be acceptable during spring break at South Padre Island, or the morning after the Isis Christmas party.

Eric H: I'm from South Florida.  Suck it up Archer, it's more than acceptable.

Barry just lost his leg.  Are you starting to feel sorry for him yet or still hilarious how Archer treats him?


Dr. Toboggan: No and if I ever start to feel bad for Barry I should stop watching Archer.  What is great about the show is how no one cares about anyones feelings? Even Mallory glossed right over Archer's sleeping with his fiance by saying it wasn't meant to be and moving on with her life. I'm sure Barry will get some sort of prosthetic and it will prove for many more great lines.

Rickey T: Super spies have a bond, they are able to cut through the fake personality and get to the meat and potatoes, and if you can't appreciate those manly truths, Archer will just shoot you and go buy a new turtle neck. That's class, that's a role model. He's a 21st century hero, and a smart shopper. 

Eric H: "Did you even try and save it?"  Pins and a shattered femur are one thing, but the poor guy losing his leg?  He does at least get a tiny violin from me and maybe some pity sex from Lana.  He did technically hold up his end of the bargain... Archer does make it back.


Overall thoughts on the episode?


Dr. Toboggan: I liked the episode a lot. I didn't understand why the Russians needed to be such terrible shooters but the throwback to the pilot was great and I love how Mallory referred to Pam as a "bloated carcass" more than once.

Rickey T: Still left hanging about the father situation. This is causing Archer to make mistakes, simple but deadly.  Barry's paying for it, both physically and emotionally, again. They have a lot in common,  Hmmm...  I wonder, could it be possible that....???

Eric H: You can read my full review or I can sum it up real quick: despite the fact I normally hate the out-of-country spy adventures, this was an amazing, funny episode.

Eric Hochberger is the programmer of TV Fanatic, so please forgive his mediocre writing. His programming is far better. Follow him on Twitter and/or email him. Just don't request threaded comments. They're coming.

Tags: Archer, Round Tables