TV Fanatic was lucky enough to speak with Friday Night Lights star Grey Damon recently. In an exclusive interview, he told us about his character, Hastings Ruckle, what it was like coming on board such a critically acclaimed show and more. Here's our Q&A with Grey ...
Tell me about Hastings.
He's the newcomer to town. He's a basketball player converted to wide receiver. He gets converted onto the football team. He's against football at first, but Coach Taylor always has a way of making people see his side of things. He's an introverted kind of guy, and he falls in love with the town and football over time.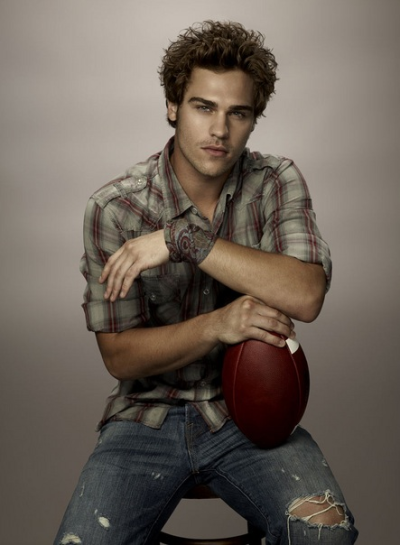 What does this season have in store for Hastings?

He shows the struggles people go through. It's not easy coming to a new town and environment. Originally, the character was supposed to have a hard time communicating with people from moving around so much and didn't like to plant his roots. The characters changed about halfway through, though, because that's when we found out that the show didn't continue. We had to change it up a little bit.

I would have liked to see where my character would have gone, and to be on the show. I feel like

Friday Night Lights

is a show that everyone wants to be a part of, and its like winning the lottery for an actor if you get to be a part of it. It's a dream job, to portray an interesting and complex character. It's like Coach Taylor, he does a lot of acting through his face and body language. I feel like Hastings had to do a lot of that too.

What was it like to come on board a show so many seasons in? Talk about joining an established cast.

Coach and his wife and his daughter were the main characters that were sticking around after the fourth season. We were all brand new, except for the main cast there.

It was incredible. You become a family right away, because you understand how important it is to connect with the actors on and off screen. Everyone did their part as far as putting their all into it. They were extremely welcoming.

If you're going in there, ready to be on top of your game and take it seriously, it will work out. Everyone has respect for professionalism, especially on a show like this. I couldn't have asked for better. Not only were we filming in amazing Austin, Texas, I actually connected with everyone. I still see them around time to time. They are great people, very stand-up individuals.

Over the years, the show really became the story of Eric and Tami. Talk about the chemistry between Kyle Chandler and Connie Britton.

Those two are both insanely talented actors. Even if they didn't have chemistry, which they do, and they're great friends off camera, but if they didn't they could sell it anyway. They're phenomenal at what they do. Their relationship in real life is amazing. When we all go out as a cast, they just have this ... insane respect for each other. They have respect for everyone, but you can tell how appreciative they are to have worked with each other. It's not surprising that they have the awesome chemistry on screen that they do.


Which is more important for a winning strategy: Clear eyes, or full hearts?

You have to have one to have the other, but if I had to choose, I'd choose full hearts. Always full hearts. If you have that drive and passion, clear eyes are just something that make it that much better. The full hearts is much more important.


How was it to join a show in its fifth and final season? Especially one that is so beloved by critics, did you feel pressure?

Yes and no. I always feel differently when I answer this question. I put the pressure on myself. Everyone was really supportive, so whatever pressure I would put on myself to do good and be the best I could be for such a special show, people would merit that but also help me see that ... the pressure was more personal for me. More or less, its not a competition, we're all playing our own roles and our own part but at the same time you want to do good so everyone can look good. That's something everyone on this show understands.

Sometimes you can see shows and certain people just don't seem to care, there's selfishness to it and it can throw off the chemistry and the show. FNL is just really jibing, as far as we all appreciate what we're doing, and love it. We worked our butts off and understood that it was important to keep this something special. We have expended out characters in our own way. We got to improv. Of course we have guidelines, but when you do improv, you can really throw the other actor off if they aren't as invested or involved. We never lost gusto.

You play football on True Blood and FNL. Were you a player in real life?

I played football in middle and high school, but for whatever reason I don't get it anymore. I don't know if its all of the names and numbers. I also played rugby, and I couldn't explain that either. When I would play football, it was literally just people telling me move there, catch the ball there. Every play was people telling me what to do. Asking me about football today I'll probably just not and smile. [laughs]

That's actually very relevant for Hastings because he doesn't really understand football in the beginning. I had to educate myself the best I could as the show goes on because my character needs to know what the hell he's doing [laughs]. He wised up about it, and was a natural athlete.

Were you a fan of the show before you joined?

I'd seen an episode of the first season a while back. I loved it because I loved the movie, but the way it got cast, I left a few days after I got the role. I was also moving because I got it. They sent me some DVD's, so when I was in the Hyatt in Austin, the day before I watched all of the DVDs. At the same time, I was watching basketball on the hotel TV, trying to see how the players moved. I tried to cram all of this information into my head.

Any other projects in the works?

I'm working on a show called The Nine Lives of Chloe King which will air June 14 on ABC Family. It's about a girl who has these insane cat-like abilities. It reminds me of spiderman.

I play a character named Brian, and we try to talk to each other and things keep getting in the way. We're on episode four next week.

Tags: Friday Night Lights, Exclusives, Interviews