EXCLUSIVE: My Interview with Cougar Town Creator Bill Lawrence - A Teaser
by Jeffrey Kirkpatrick at .
Who else is excited that the ten-week hiatus is ending for ABC's Cougar Town on Monday, April 18? We at TVFanatic certainly are.
If you haven't ever seen the show, or have been avoiding it because of the title, please hear me now: it's not the kind of show you think it is. In fact, it's one of the funniest, most heartfelt comedies on television today and one of my personal favorites.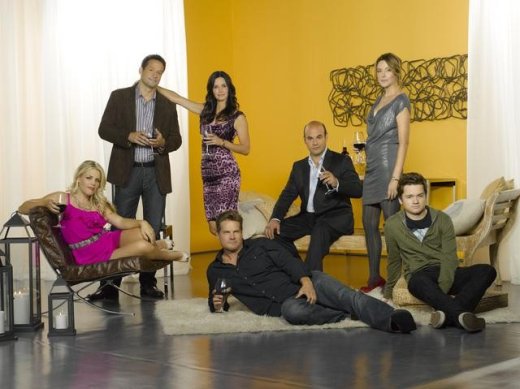 I had the distinct pleasure of chatting this afternoon with one of the series creators, the very cool and personable Bill Lawrence. I tried not to geek out too much, but failed miserably.

We had a fantastic conversation in which he shared some mild spoilers and behind the scenes goodies, a couple of which I'll share with you now. For the bulk of our chat, be sure to check back on Monday morning when TV On My Terms comes back to celebrate the return of Cougar Town immediately following Dancing With The Stars at 9:30/8:30C on ABC.

MILD SPOILERS AFTER THE JUMP

- A Baby for Jules and Grayson?

Don't expect Baby Stan to get a playmate any time soon. It ain't happening. What 42-year old woman already struggling with handling her almost 20-year old son wants another baby? Besides, could Jules really part with Big Carl for NINE months? And with regard to Jules and Grayson's future as a couple, Bill says they have no plans to toss a will-they-or-won't-they, "Ross and Rachel" type relationship at the audience. These folks are too mature to be messing around; as long as the relationship feels true and organic, they're in for the long haul.
 

- Like Father, Like Son?

It's no secret the actress who plays Kirsten (Collette Wolfe) is in demand, and has booked a television pilot for the fall, and we've already heard that a crisis for Travis takes the Cul-De-Sac Crew to Hawaii for the finale. But what Bill did share with me is that the tide turns for Travis in a way that anchors him eerily to a path set forth by his father.


- Title Card Madness?

Think you'll get to see every title card joke they want to use? Think again. He mentioned to me two ideas that didn't make the cut. One of them, which was planned for use on Monday's post-DTWS episode would have read: "Welcome Back to Cougar Town! We sure hope ______ wins Dancing With the Stars!" (You didn't think we'd really tell you who they were rooting for did you?)

Here are a few more things that Bill passed on to me which you should be on the lookout for in the interview next week:

- His reaction to being told about the ten week hiatus.
- How he handles the positive and negative feedback via social networking sites like Twitter.
- Has he ever been "cougar-ized" himself?
- His dream guest star.
- The television comedy he calls "a comedy writer's dream."
- The true origin of Big Joe and Big Carl (and a new Big pal soon to be introduced).
- Tom and Barb's status with regard to the Cul-De-Sac Crew.
- Another easter egg involving Laurie and Twitter to watch for in the final eight episodes.
- How Ted Buckley, the put upon attorney from Scrubs, ends up in Hawaii.
- Lots of Scrubs references.

Part One of the interview will be posted on Monday morning, with Part Two following up on Wednesday, when Cougar Town returns to its regularly scheduled time slot following Modern Family with a second new episode!

Also, if you haven't already heard about it, the producers are holding a contest on Twitter for the best fan-made promo. The contest ends on Monday, so if you intend to participate you best get cracking! Follow @kbiegel and  @VDOOZER for details.

Be back here on Monday, Fanatics, to help us kick off Cougar Town Week!

Jeffrey Kirkpatrick is a TV Fanatic Staff Writer. Follow him on Twitter.

Tags: Cougar Town, Bill Lawrence, Spoilers
From Around the Web