Family Guy Review: "Tiegs for Two"
by Kate Moon at .
In "Tiegs for Two," Family Guy introduces a new stereotype on the block: Mr. Washee-Washee, who gets all the best lines of the episode.
The stereotype of the Chinese man is so overdone that it manages to be far less offensive than it could have been. Spitting back the stereotype of "All Asians look alike" at Peter is a nice touch also. Far less amusing is the vignette at the beginning with Michael J. Fox.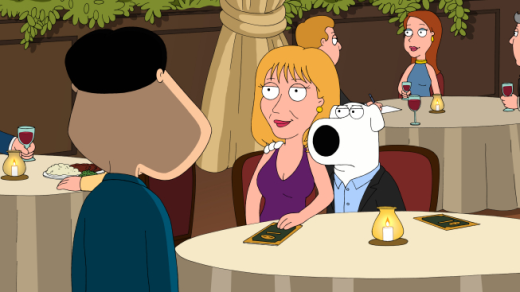 The spat between Mr. Washee-Washee and Peter also leads to the better storyline of the episode between Quagmire and Brian. It's nice to see that Family Guy is continuing the comical animosity between the dog and womanizer; it actually works on so many levels. 

When Brian gets his heart broken by a new love, Denise, he takes Quagmire's class on how to pick up women, much to Quagmire's trepidation.

Brian loses Denise forever when he acts like a jerk and takes it upon himself to date Cheryl Tiegs, who is apparently Quagmire's soulmate.

It's also nice to see pretty but vapid Jillian back on Family Guy. As the most consistent woman in Brian's life, Jillian is always a source of comic relief.

She certain delivered today as Quagmire's clueless date.  Although it looks as though Brian and Quagmire might reconcile after their tête-à-tête, the episode ends with Quagmire running Brian over with his car.

What did you think? Did you enjoy the rivalry between Quagmire and Brian? Check out our list of Family Guy quotes from the episode and comment below.

Tags: Family Guy, Reviews
From Around the Web