On this week's episode of Nikita, "Girl's Best Friend," Twilight's Edi Gathegi guest starred as a playboy, terrorist son of a president.
I have to admit that I was a bit angry at the show for playing a trick on viewers, as I found myself saying 'I knew it!' when it was revealed that Nathan was part of Division.
However, it turned out to be a dream.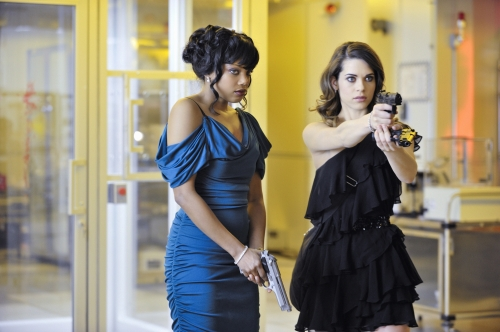 Every week this show comes up with more impressive hiding places for detonators. It was good to see Michael show some independence, even when in cahoots with Nikita. You can't expect him to listen to all of her instructions.

That Swiss chick Anya really gave Nikita a run for her money. As discussed in my interview with Maggie Q, she does all of her own stunts, so you know she got some bruises from that fight. This show was definitely not lacking in the action department.

I'm not fully invested in Jaden's character, but I'm glad we now know how she ended up in Division, and I can understand why she was more than happy to kill Kalumay.

She scares me, as she is truly on Percy's side with this. She's a killer by nature, and a damn good shooter. Also, I don't believe Jaden would have saved Alex had the situation been reversed.

This show also needs to make up its mind about whether Alex will leave or not.

The mission feeling 'right' seemed like a cheap way to keep her in the show (not that I'm voting for Lyndsy Fonseca to leave the show). The original reason Alex was going to leave was because of the direction she saw herself heading in… how did that change?

She saved Jaden, yes, but it was because she thought of Nikita. WWND? (What Would Nikita Do?) has a nice ring to it, doesn't it?

I wasn't fully satisfied with this week's episode, but next week it looks as if Nathan will actually find out what Alex does.

What did you think, TV Fanatics? Do you agree that the show seems like it's trying to make up its mind about Alex being in Division? Discuss!

Tags: Nikita, Reviews