Pope Alexander: Oh what would Rome be without a good plot?
That just about explains what The Borgias is going to be about. Constant plotting against the Pope, and then his ability to fight back against all those that oppose him.
There was all you could ask for in the two hour premiere in terms of corruption and deceit. If you saw any of the promotion for the show, you could not have been surprised.
When you market a series as "the original crime family," you are going to get what we saw tonight; buying your way into the Papacy, killing off those that would rather you not be in power, and plenty of sexual transgressions for good measure.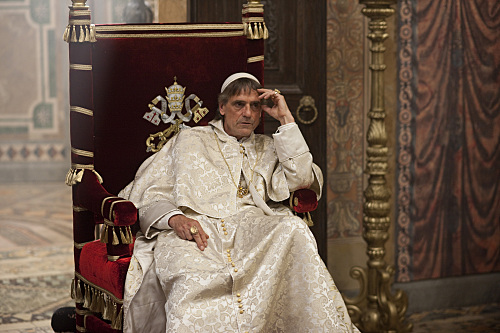 Sometimes these cable two hour premieres can act like a made for TV movie that just continues on the next week, but although "The Poisoned Chalice" and "The Assassin" weren't technically split up into two parts, they felt like two separate pieces of work.

Part One did a great job of setting the scene and introducing us to the most important of characters, mainly Rodrigo and Cesare Borgia. It then became a story of how Rodrigo bought and fought his way into the Papacy thanks to the help of his sons.

Throughout "The Poisoned Chalice," Jeremy Irons did a fantastic job at portraying the magnitude of what his character was going through, and how much it all meant to him. 

Whether it was watching as Rodrigo was carried through the city, or putting on the crown for the first time, Irons was great.

Now I mainly know Jeremy Irons as the voice of Scar from

The Lion King

, but glancing at his IMDB profile I am also reminded of his role in

The Man In the Iron Mask

.

Other than that, he's a rather new face to me. Needless to say, his uncanny resemblance to Hank Azaria - both in looks and in the accent Azaria used in Night at the Museum 2 - kind of freaked me out at times.

And after one showing, I absolutely love newcomer Francois Arnaud as the dark cleric of a son, Cesare. His love of the Borgia family, and the fact that he will do anything to protect it, should provide for great stories throughout the series. The fact that he does not want to be a cleric will no doubt create more tension between him and his father, as well as him and his brother Juan as things move forward.

He seems like he will be the mastermind of the family as his ability to take things into his own hands and sign on Micheletto as his own personal assassin proved to be the key to saving both the Borgia family and his father's Papacy.

After Cesare and Micheletto switch the poisoned chalice, killing Cardinal Orsini, things sort of switched gears as the episode switched into Part Two. "The Assassin" was just what the pulled quote at the top says, plotting on top of plotting. It was great execution to see that every time Cardinal Della Rovere made a move towards removing the Pope from his throne, the Borgias were one step ahead of him.

I found it interesting how involved Micheletto became so quickly. He immediately was giving 110 percent to the point that he was the one that had the idea to torture himself so that Della Rovere would trust him. I know the Borgias are dangerous, but why did he so quickly give himself to them? Is it just because Cesare is the son of the Pope? And Micheletto wants to be on that side of the power? I'm not sure, but the relationship between Cesare and Micheletto sure was fun to watch.

I know that a show is what a show is, and in this case we are to see the lives of the Borgias immediately following Rodrigo becoming pope, but I would have loved to have seen this man before he became Pope. What was he like? What did he do?

Because he seemed to change a good deal after receiving the honor, I think that change might have seemed even more drastic if we had gotten to see him as a Cardinal for a half a season or so.  

There really seem to be a multitude of avenues for stories go forward, as we have yet to learn much about Juan or baby Gioffre. We also can expect that there will be more to come between Pope Alexander, his wife, and the whore next door. I'm excited to see how this Roman soap opera turns out. What did you think of the premiere?

Dan Forcella is a TV Fanatic Staff Writer. Follow him on Twitter.

Tags: The Borgias, Reviews