The Secret Life of the American Teenager Review: "Another Proposal"
by Leigh Raines at .
What do you do when you go out of town and leave your boyfriend unattended? Well in "Another Proposal" Amy sends spies to check in on Ricky.
Why is it that Ricky's automatic response to fear is to go sleep with different girls. I've noticed he is no longer in therapy with Lauren's dad and perhaps that's an issue that should be explored. I understand that Amy is paranoid, but it's also a big red flag for her to have so little trust for her boyfriend.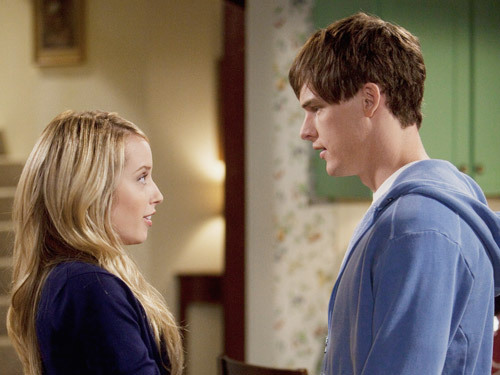 Nora and George were absolutely hilarious. Their banter was well written and I'd like to see more interaction between these two. They might be the only two people on the show not obsessing about whether or not to have sex. They're blunt, open, and quite entertaining.

Whether it's Grace and Grant, or Madison and Jack, all these kids do is obsess about having sex. Yes, this is realistic, but teenagers also have other things to talk about. Surprisingly, yes it is true!! Poor Jack just wants someone to include him.

His parents took off and left him, he lives in his ex girlfriend's guesthouse, his girlfriend dumped him, and he basically has no friends. Writers please give him a story line!

Another duo who I happen to enjoy is Ricky and Ben. They act like they dislike each other but deep down they both know they relate to each other.

Anyone could have gone up to Ben and said "don't get married yet" but when it comes from Ricky you can tell he takes it seriously.

Adrian is in bridezilla mode and you can tell Ben is freaked out. Considering Amy's last minute proposal, to which we didn't see the reaction, I'm guessing Ricky is pretty freaked out too.

They all know they are young parents, should they also jump into being young newlyweds? A lot of questions hang in the balance. Stay Tuned!

Leigh Raines is a TV Fanatic Staff Writer. Follow her on Twitter.

Tags: The Secret Life of the American Teenager, Reviews
From Around the Web