Castle and Beckett returned to New York and wasted no time providing viewers with another entertaining case. "Pretty Dead" brought us into the world of beauty pageants and the cut throat people involved. 
Last week, Castle was fun in the sun in a different style of episode. Tonight, classic Castle reemerged with a dark and twisty case.
This show is known for its twists, turns, and endless guessing about the murderer. Yet, do you ever think that we twist one too many times? It is very rare that I feel like this, but this case just didn't fit like it usually does. The hour was great, but the case itself was not my favorite.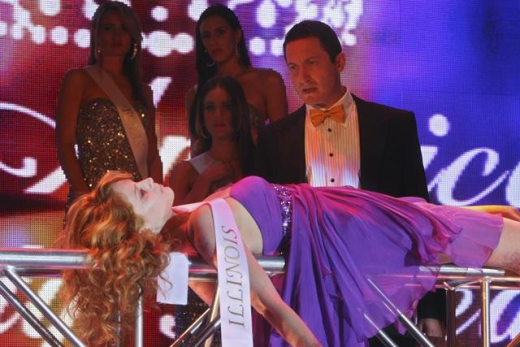 There were a few things to love about "Pretty Dead." First, how great did Teri Polo look? I couldn't help but get excited at seeing Pam Focker on my screen.

Secondly, does Amanda Schull creep anyone else out? After her crazy stint on One Tree Hill, she popped back up on the small screen as another strange girl.

Think it's time to look for a new type of role!

After a very Caskett episode, "Pretty Dead" catered to Rick Castle all on his own. This installment highlighted him as a father and I really enjoyed his conversations with Alexis. Her crisis with Ashley provided a chance at some screen time for both herself and Martha.

I have said it before that these characters need something fun to do. Sending Alexis off to Stanford might be a good idea...

Alexis' situation also caused the few smiles and glances us shippers got to enjoy out of the couple. :)

On a side note - where was Lanie at? 

So it is finally here, one episode left of season three. This entire season has been amazing and I have high expectations for the finale. The previews alone make it look epic, and if any of you have read the spoilers, you know we are in for a big one.

Here is hoping that Castle and Beckett will move forward instead of being torn apart, Alexis and Martha find something to do, and we get some screen time of Ryan and Esposito with their ladies.

Any guesses on what will be happening in the epic Season 3 finale of Castle? Sound off below with your guesses for next week's "Knockout." What did you think of "Pretty Dead?" Up to par or a little below expectations?

Until next week...

Tags: Castle, Reviews