Hines Ward!
The Pittsburgh Steelers wideout has won two Super Bowl rings and was MVP of one of those victories. Now he has a Mirror Ball to add to his trophy case.
If you ask him, the MVP was partner Kym Johnson, who fought through a bad neck injury this month and was "an amazing teacher" all season long.
Ward thanked Kym profusely and thanked the judges "for giving us constructive criticism ... I also want to thank all the fans," said the NFL star.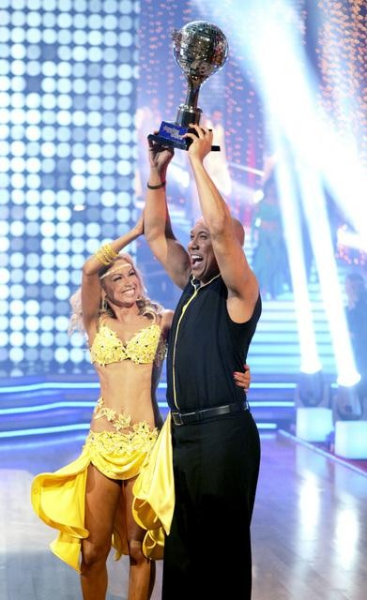 M-V-P! M-V-P! Hines Ward's Dancing With the Stars triumph wasn't a shock, but either of his fellow Season 12 finalists being in this position wouldn't have been, either.

So there you have it, fans. Hines Ward is your Dancing With the Stars Season 12 winner. Was it what you expected? Do you think he deserved to win?

Kirstie Alley, who finished a strong second along with Maksim Chmerkovskiy, said, "This the most extraordinary adventure I've ever been on in my life."

Disney starlet Chelsea Kane finished third, rising from obscurity to start the year to make the finals and deliver a near-perfect performance on Monday.

Still, neither woman could quite overtake Ward, who proclaimed that DWTS is his Super Bowl this spring. As is his custom, he walked away a winner.

What do you think? Did Hines deserve it?

Steve Marsi is the Managing Editor of TV Fanatic. Follow him on Google+ or email him here.

Tags: Dancing With the Stars, Reviews