After last week's epic Familiy Guy, "Foreign Affairs" unfortunately didn't live up to my expectations. While there were some classic laugh-out-loud moments - Quagmire strapped to Joe's back to help him walk - the highlights were probably the cutaway gags. They had some of the best I'd seen on Family Guy in a long time.  Let's break it down.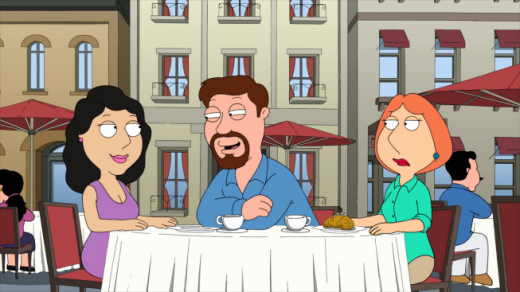 The episode takes place in Paris with Bonnie and Lois's girl trip. While Lois is excited at the prospect of shopping and museums, Bonnie shocks her by bluntly declaring that she came to Paris for one thing: an affair! Despite Lois's best efforts, Bonnie is easily charmed by creepy Frenchmen who want to "void" themselves on her. 
Eventually, Bonnie settles for the French version of Joe: a handicapped Frenchman with the requisite charming accent. When Bonnie decides to stay in Paris with her new boyfriend, Lois calls in the big guns and Joe comes to Paris to woo his wife back. In a touching scene, Joe walks over to Bonnie and they decide to start their life again. The best part? When Joe turns around and we see that Quagmire is painfully strapped to his back, walking for Joe. 
Meanwhile, back in Quahog, Peter is left in charge of the house and decides to pull Meg and Chris out of school, Ferris Bueller style, after an outbreak of "goat flu." Despite his efforts at fun teaching, he decides to send the children back once he realizes that they're not learning anything. 
While I appreciated the efforts of the writers in showing us the rest of the family, I felt that the secondary plot was unnecessary. It was neither entertaining nor even long enough to establish a proper plot.
Overall, despite my disappointment after such a strong outing from last week, the episode offered tons of entertaining gags.  Here are the best of the best:
Muppet-style sightseeing of Paris by Muppet Lois and Muppet Bonnie. Their hair, lipstick, and clothes matched perfectly to the animated versions!
French mimes mugging and shooting one another. Who knew miming could be such a dangerous profession?
Joe's American Dad theme song.
Visit our Family Guy quotes section for a rundown of the best lines from the week.

Tags: Family Guy, Reviews
Want more Family Guy?
Sign up for our daily newsletter and receive the latest tv news delivered to your inbox for free!
More From TV Fanatic
Join us for the One Tree Hill Rewatch of Season 1 Episode 4! Ready to relive the fun drama?
Power struggles ensue all around Chester's Mill on Under the Dome. Lives will be put on the line.
Scott decides to get tough on Teen Wolf after rescuing his Beta by declaring he won't sit back and watch more deaths. Find out what else went down in the review!
Heather and Tamra consider making peace with Shannon on The Real Housewives of Orange County. See what went down in our TV Fanatic review!
---