Welcome back to the weekly TVF Gossip Girl Round Table, where our panel breaks down the previous night's episode (see our review from earlier this morning).
Below, TV Fanatic Editor Mister Meester is joined by THE shot-caller himself, our company President Gossip Guy, for a discussion of "The Princesses and the Frog."
Our colleague DANdy is still off partying in Asia, but hopefully, like Jack Bass, he will be back on the East Coast next week. It's a two-man show again for now:
~~~~~~~~~~~~~~~~~~~~~~~~~~~
1. What was your favorite Gossip Girl quote from last night?

Gossip Guy: I want to give it to newcomer Charlie. Girl gave it to Vanessa when she told her she didn't know how to win Dan or she wouldn't be studying aboard. Snap. We all know you get bonus point from Gossip Guy for any insults directed at V.
Mister Meester: Louis proposing. I'm a sucker for that not-French-sounding but still adorable accent, and for anything that will make the Queen happy.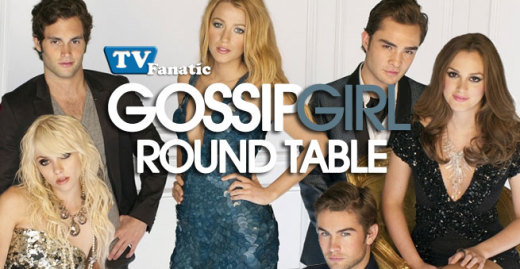 2. Who are you more disappointed in, Serena or Chuck?

Gossip Guy: The weird part is I'm a little more disappointed in Serena. That's not at all saying I condone any of Chuck's actions, I've just come to expect this kind of drunken irresponsible behavior whenever he learns about his past. Serena, however, trying to ruin the rest of her supposed best friend's life after a fake apology? So low. Even for jealous Boobs McGee.
Mister Meester: I don't condone what Chuck did in the least, nor am I making excuses for him. I let him have it in my Gossip Girl review, and am pissed at what he did to Blair. That said, I can at least see where it came from. Dude is a physical and emotional mess and has slowly become so over a period of weeks. Serena, on the other hand, is acting like the worst friend ever for seemingly no reason, and her nonsensical reasons for trying to derail Blair's dreams almost make me more angry at her.
3. Is Charlie the new Georgina (resident crazy girl in training)?
Gossip Guy: Woh, woh Mister Meester. Don't say things you can't take back. Charlie lying to oust Vanessa is never crazy. That's just standard UES behavior and if anything commendable.
Mister Meester: Georgina's the craziest of the crazy, but Charlie could be her understudy. Like the Sith Lords of Star Wars, there must be a master and an apprentice ...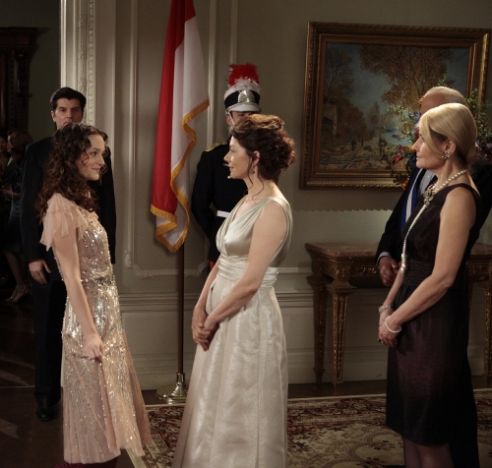 ROYALLY CUTE: Come on, royal people. How can you not love Blair?


4. Will Blair actually marry Prince Louis?


Gossip Guy: I normally am the biggest supporter of Chair for the endgame, but Chuck's latest self destruction has made him harder than ever to root for. And this is from the guy's original fan from season one.  Sorry, buddy, I'm officially on team Blois. But that's only because Dair is off the table in this question. So to finally answer your question? I sure hope so. But I know she won't :(

Mister Meester: I kind of hope so, if it means more of that curly hair. How cute does that look on Leighton? But seriously, since the writers basically assassinated Chuck and left Dan out to dry last night, I'm about ready to get on board with Louis. The fact that I was immersed in Royal Wedding coverage all last weekend doesn't hurt.

5: Rate last night on the Vanessa Uselessness Scale (1-10).


Gossip Guy: She not only was somewhat relevant to tonight's episode, she basically admitted to her uselessness this week! So really, V, I turn the question do you. What would you rate yourself on our VUS? ... No? Nothing? Fine, then I'll give you an 8. Bitch. So glad you're leaving us to study abroad in an unnamed destination.

Mister Meester: 5, for basically validating the existence of this very scale, and for peacing out of the show at the end. Anyone sad about that plot twist?

6: Jack is back next week. What do you think for?


Gossip Guy: Well clearly he'll gladly accept a call from any random girl (read Raina) and will fly halfway across the country to help her destroy his nephew. This is Gossip Girl and that is Jack Bass. Hopefully he'll bring back DANdy on his returning flight. We sure do miss him here at TV Fanatic.

Mister Meester: If the writers are looking for a way to make Chuck a sympathetic figure, having Jack and Russell Thorpe team up against him is a good start. Come on. He's made a mess of his life, and that's on him, but hasn't he been through enough? Does Jack want Chuck dead? What else can he possibly do to ruin his nephew?

What do you think? Sound off in the comments!

Steve Marsi is the Managing Editor of TV Fanatic. Follow him on Google+ or email him here.

Tags: Gossip Girl, Round Tables