Justified Season Finale Review: Getting To Know The Mystery
by Dan Forcella at .
This second season of Justified was pretty close to flawless, and in some ways extremely poetic.  "Bloody Harlan" was in itself a great episode, but it wrapped up the entire arc of the year so well that at times it might be difficult to grasp how good the hour actually was.
The final sequences brought the season, as well as the stories of Mags and Loretta, full circle.  Because she was such an important aspect in the very beginning, it felt so gratifying that Loretta played a crucial role in the finale.  The ending scene between her and Mags was beautifully played by everyone involved, including Timothy Olyphant, who once again portrayed the fatherly figure with ease.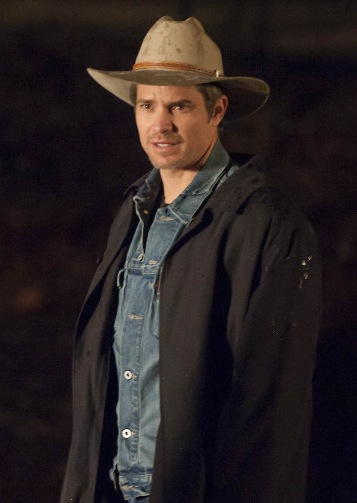 Similarly, Mags went from one end of the spectrum to the other over the course of the season.  She began the year killing Walt McCreedy with her poisoned apple pie jar, and now she took her own life in the same fashion.  It was certainly powerful material, and if Margo Martindale doesn't earn an Emmy nod for this season, it will be a shame.

But before Mrs. Bennett went, she found out that Doyle had died and Dickie was still alive, but in custody.  It seemed a bit funny that she was ready to die.  It was almost as if she wanted to go be with Coover and Doyle in the afterlife, and if Dickie had been killed instead of Doyle, she would have rather stayed alive.

The fact that she ended up taking her own life, made her plea to Loretta that much more meaningful.  She really cared about this girl.  How strange it was should not have mattered, because her feelings were genuine.  Even though Mags was planning on dying two minutes later, she didn't want Loretta to kill her because she didn't want the girl she loved to be in trouble for the rest of her life.

Mags was truly a troubled woman, so it is hard to believe that only four episodes ago she was celebrating life and singing her lungs out on her front porch.  The Bennett family, now with only young Dickie to its name, fell so far over the course of the season...no thanks to Boyd Crowder.

Mr. Crowder, who just recently got back into his criminal ways, is really back into a groove.  He had his men prepared for the attack by Dickie and company, and they almost took care of business.  Johnny did his part, but Devil failed to keep Ava in the basement, so of course she was shot by the stone cold Dickie.

And that is another thing that makes Justified so good.  That looked to be an absolute kill shot on Ava, and we have to believe that it could be after they just killed off Aunt Helen a couple episodes ago.  No character is safe, and even at this point it is not clear if Ava is going to make it.

At the end of the day Boyd still has a soft spot for Raylan, as he showed in allowing the Marshal to take Dickie when Mr. Crowder surely wanted to get revenge for the shot on Ava.  And that Mexican standoff they had going created as much tension as you could imagine...only they didn't have any Mexicans.

Basically any time that you can make Jeremy Davies show off his ability to switch from tough guy who beats dudes with a baseball bat that are hanging upside down from a tree, to guy that cries upon the mere thought of being injured, it is going to make for a great scene.  This time was no different.

While all of "Bloody Harlan" worked like gang busters, easily the most heart warming moment was hearing Art's voice as the Marshals and cops invaded the Bennett place in order to save Raylan.  A big thank has to go out to Winona for bringing it to his attention, but that took a lot for Art to come up big like that.

With Arlo still enthralled with being a criminal, it seems like Art plays the fatherly role in Raylan's life more than anyone should ever have to.  Because it seemed like Art had really given up on Raylan both earlier in the episode and the past couple of weeks, it was glorious seeing him come to the rescue.

Oh guess what else?  Winona is pregnant!  That tidbit of information fit so well with the fact that Raylan once again showed how good he could be with young ones like Loretta.  Let's just hope that he won't have to talk his own kid down while holding a loaded weapon.

"Bloody Harlan" was a great ending to one of the best seasons of television to date. What did y'all think of the episode? What did y'all think of the second season? And where do you think the story can turn for season three?

Dan Forcella is a TV Fanatic Staff Writer. Follow him on Twitter.

Tags: Justified, Reviews
From Around the Web