One Tree Hill Season Finale Review: Air Force Done
by Dan Forcella at .
There have been many times over the course of One Tree Hill's eight seasons when they have unnecessarily made every second on screen seem not only important, but epic in nature. "This Is My House, This Is My Home" certainly straddled that line, but was effective for two reasons.
First of all, unlike some episodes that came before it, much of what happened in this season finale was very important. And secondly, when this was being created it could have been their series finale. The constant dramatic music combined with powerful stories was a necessity for the last ever episode of One Tree Hill.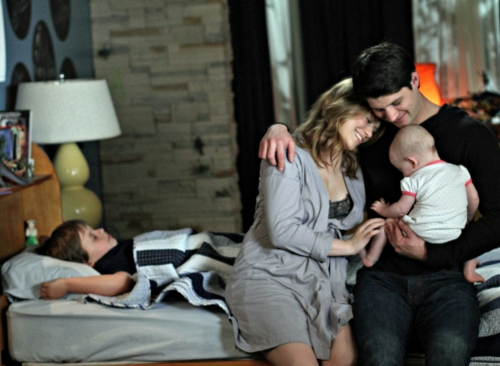 Fortunately for us fans, word has been received from The CW that we will be getting a ninth and final season next year. That should give them plenty of time to wrap up the stories that were either teased or wrapped up poorly in "This Is My House."

Between Brooke having twin boys, the re-opening of Karen's Cafe, and everything dealing with Chase Adams, most of what went on worked well. The time jumping plot device was a great move - especially if this ended up being the series finale - in order to have the happy ending of Brooke with her baby boys.  

As has been mentioned before, Mrs. Baker has been through so much on the series that it would be horrific not to allow her to be content.

And Brooke joining up with Haley to re-open Karen's Cafe was both interesting in its own right, and a great nostalgic move by the show.  Every fan of One Tree Hill loved the old days of the original Karen's Cafe, so having the dynamic duo as owners of Karen's Cafe 2.0 is a nice hand out to the fanatics.  Not to mention we got a great Haley James Scott performance out of it.  If there's more of that next season, I'm sure people will be happy.

Once again, props must be given to Stephen Colletti and everyone he worked with this week.  I think he's doing a great job, but maybe it's whoever is writing for his character Chase that just knows their stuff, because his relationships with Chuck, Mia, and Alex all feel as real as life itself.  Then again, maybe it's the chemistry these actors have with each other.  All of them, but especially Colletti and Michael May (Chuck), seem like they've been hanging out when the camera shuts off.

The last aspect that made "This Is My House" worthy of an extremely positive review was the return of Dan Scott!  There is something so sympathetic about this man, and I still don't understand it.  I want so badly for Nathan to let him back into the life of the family, and if the finale was any indicator, we might be heading that way in the final season.  If Dan had never killed Keith, would others love Dan as much as I currently do?

And James Lafferty was great in that moment, as he showed how much Nathan was struggling between hating this man that almost ruined his life and killed his uncle, and wanting to give him another chance and give his kids an opportunity to know their grandfather.  It was a good thing too, because everything Lafferty and Robert Buckley's Clay did during the rest of the episode was a swing and a miss.

Their interactions together as agents seem contrived.  Their idea to travel the road looking for one player that isn't even a top 75 prospect for the NBA draft was ridiculous.  And the fact that Nathan admitted to working out at two in the morning, only to find another kid working out at three, was flat out insulting.  Athletes need rest.  They don't work out 24 hours a day.  If you're shooting in the gym in the middle of the night you either have insomnia or a cocaine addiction.  Don't sign this kid Fortitude.

Getting into how annoying Jamie continues to be is not worth the time, so I will simply say...isn't this kid eight years old?  It works when Manny Delgado acts like he's 40 on Modern Family because it is an unrealistic comedy.  Jamie talking like he is a full fledged adult about his relationship with Madison is kind of disturbing at times.  And how is an eight or nine year old girl going on dates to the movies?

I hate ending on a negative note, so let's get back to the positives.  The Mouth and Millie in the Morning Show actually worked well.  It was a great way to keep the time jumping going, as the pair talked with Alex about her movie and then were there at the opening of Karen's Cafe.  I'm glad that Millie didn't head off to Charlotte, because unlike many times in the past, I actually liked this couple together this week.

So what did you all think of "This Is My House, This Is My Home?"  Was it a satisfying season finale?  How about if it were the series finale?  What do you expect from next year's final season?  And how awesome was it that Jamie was wearing the Keith Scott sweatshirt and dribbled across the bridge?

Dan Forcella is a TV Fanatic Staff Writer. Follow him on Twitter.

Tags: One Tree Hill, Reviews
From Around the Web