I went into this sixth episode of the season wanting to write a more glowing review of The Borgias, but "The French King" still left plenty to be desired. Not by its characters mind you, who all must have desired nothing after all of the sex in this episode.
One of the main criticisms of The Borgias in many of the pre-air reviews was that it was simply a historical soap opera with too much nudity and gratuitous sex.
Before this week's chapter I was ready to disregard that critique entirely, but it seemed to be all that "The French King" was about.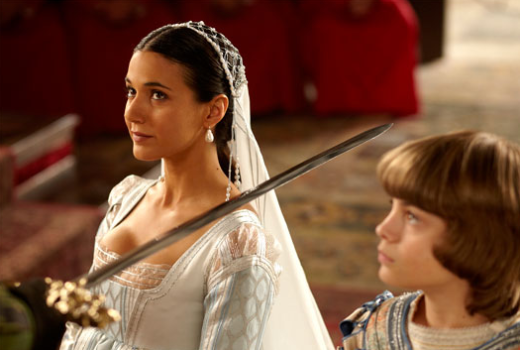 Not only was it Rodrigo and Giulia, Cesare and Ursula, and Lucrezia, but then there was the disturbing Juan, Joffre, and Sancia situation in which the older brother had his way with his younger brother's new wife just before the bride had her way with the young child.

I am all for a good time, but this was all a bit too much for one episode.

The hour was a nice character piece on Juan though. He set out to seal the deal between Joffre and Sancia, but just had to have her himself, nearly jeopardizing the marriage.

Then he comes back home only to get royally peeved when seeing the man who may or may not be his father, and beating him to a pulp. Although Juan seems to play by his own rules, he still has to take his place when getting torn a new one by Rodrigo for his actions.

Juan continued to fly off half-cocked as he fornicated with Sancia once again, following the marriage between her and Joffre. Part of me wants to think that this is a terrible idea, but the other part of me thinks that maybe this is something that Sancia needs in order to keep her marriage with Joffre afloat.

Fortunately, Juan's ridiculous behavior could actually be helping the rule of the Papacy.

While it was nice to get a better feel for what Juan was all about, I did miss Cesare a bit. Oh wait Cesare was in this episode? I didn't recognize him in that dress. See what I did there? Stop whining about Ursula and be the stud that you were for the first three episodes.

And was this whole Cesare and Ursula thing only two episodes? It seemed like a much bigger deal, so I hope the fact that she left him and joined the nunnery so quickly has major effects on both Cesare and the season.

As Della Rovere continued to make his moves against the Pope, we met the fantastic King Charles of France. It was so refreshing to see a character like this that was such a straight shooter. He had no hunger for scheming.  If he was going to go into a war, he was going to do it to kill people. And he was going to kill them with chained cannonballs!

I hope that the impending battle comes sooner rather than later. If it continues to extend until the season finale, what we have to go through to get there might not make the conflict worth it in the end.

I didn't think "The French King" was one of the better The Borgias episodes so far.  What did you all think of the episode? And what do you see happening next in the series?

Dan Forcella is a TV Fanatic Staff Writer. Follow him on Twitter.

Tags: The Borgias, Reviews